Our mission at Hawaiian Paddle Sports involves community, culture, and protecting what we love in this world. We are proud to sponsor Hawaii Wildlife Fund, a local non profit dedicated to the conservation of Hawaii's native wildlife though research, education and advocacy.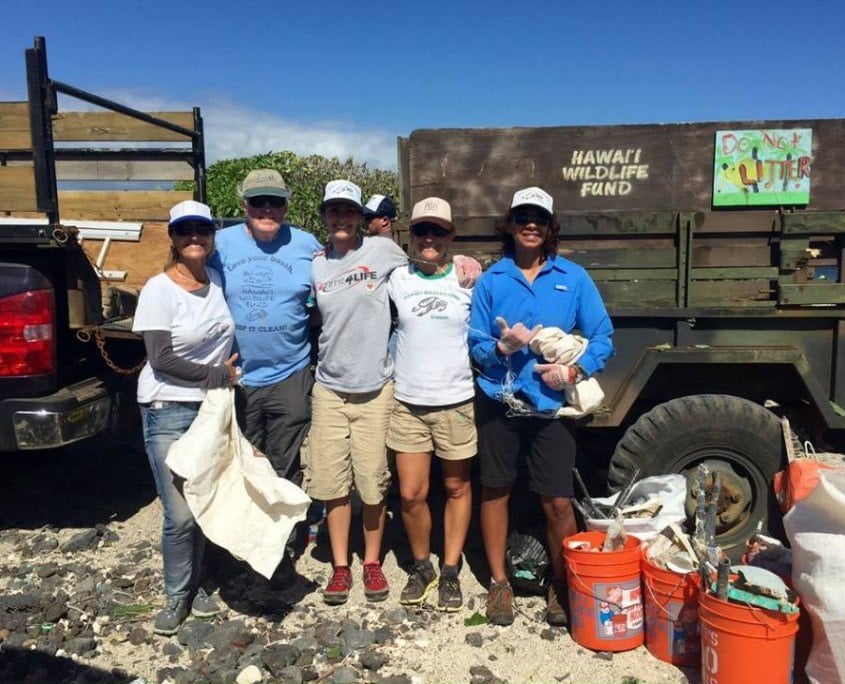 Conserving Hawaii's Native Wildlife
Hawaii Wildlife Fund was founded in 1996 by Bil Gilmartin and Hannah Bernard, two former National Marine Fisheries Service (NMFS) scientists. Over the past 20 years, HWF has made incredible strides in terms of protecting Hawaii's native species – from sea turtles to the critically endangered Hawaiian monk seal. The non-profit organization runs on-the-ground conservation programs on both Maui and Hawaii Island, in addition to outreach and education programs, research projects and advocacy campaigns.

Hawaiian Paddle Sports is proud to support Hawai'i Wildlife Fund and the work they do to help protect our precious wildlife.  Here are some projects that the team at Hawaiian Paddle Sports has been involved in:
Every year, Hawaii Wildlife Fund's Marine Naturalist Program teaches thousands of residents and visitors about Hawaii's marine life. Hosted through EdVenture, part of the University of Hawaii Maui College's Office of Continuing Education and Training, the Marine Naturalist Program provides professional-level development for public educators of all backgrounds. The Program caters specifically to tour boat crew and naturalists, but is open to any member of the public who wishes to learn more about Hawaii's ocean environment. Students are eligible to obtain a certification after meeting course requirements. Becoming a certified marine naturalist is one way for an islander to help our visitors enjoy responsible viewing of our special wildlife while keeping the wildlife from being loved to death. Students can sign up for the course by calling Evelina Bondar at (808) 984-3231.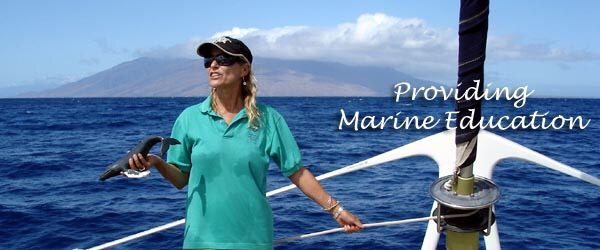 Hannah Bernard, who teaches the courses, is the co-founder and president of the Hawaii Wildlife Fund. She has worked for the last 30 years as a marine biologist, naturalist, naturalist trainer, policy advisor, environmentalist, community organizer and dedicated advocate for the ocean.
Beneath the starlight, the sand begins to boil with life. A tiny head emerges, followed by a flipper. Soon turtle hatchlings – each no bigger than a toddler's hand – swarm the beach, heroically crawling toward the sea.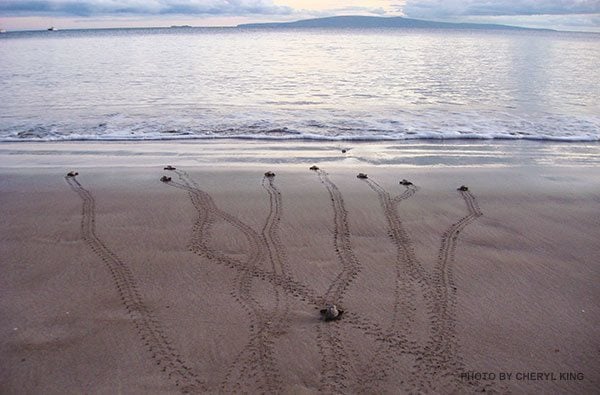 Since 1996, Hawaii Wildlife Fund volunteers have spent sleepless nights patrolling Maui beaches, anticipating this magical moment. Two sea-turtle species nest on Maui: honu, the green turtle snorkelers often see, and honu'ea, the endangered Hawaiian hawksbill. While most honu nest in the remote reaches of the archipelago, honu'ea nest exclusively in the main Hawaiian Islands, primarily on the Big Island. With fewer than 100 nesting hawksbills statewide, the success of each nest is crucial for the survival of the species.
Cheryl King, HWF's vice president and research director, is Maui's sea turtle expert –and midwife of sorts. She has closely monitored honu'ea and honu since 2000. Finding these elusive reptiles is no easy feat, she says. "We've identified eight nesting females on Maui, which is as much of an accomplishment as it is a reality check."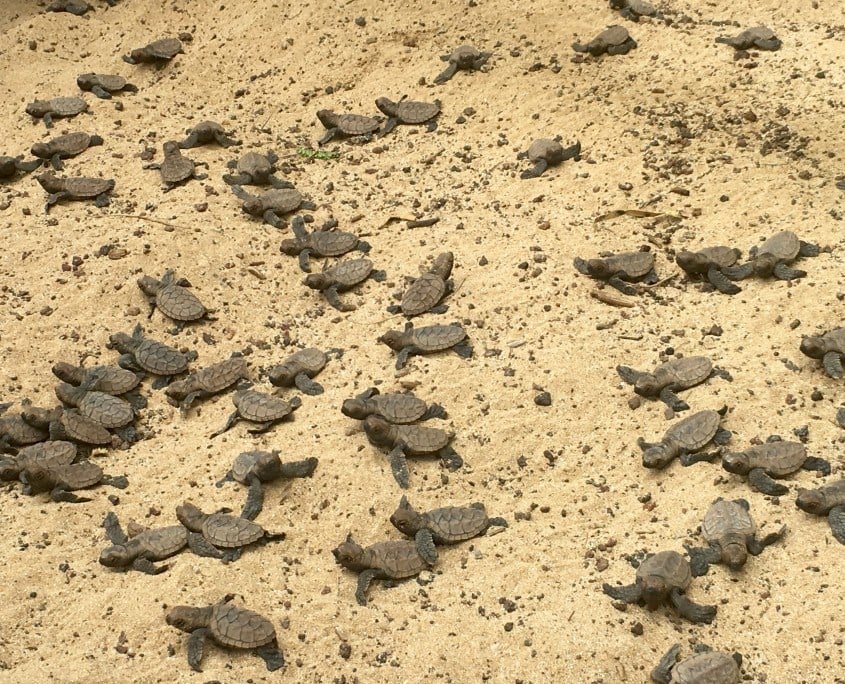 Fencing to Protect Dunes and Turtles
In addition to Turtle Patrol and Nest Watch, Hawaii Wildlife Fund helps repair and maintain coastal fencing. Fencing is installed along the landward edge of the beach, and is designed to prevent nesting turtles and hatchlings from wandering into the road. The importance of fencing became apparent in the 1990's when two critically endangered hawksbill turtles were struck and killed by cars. With fewer than 100 female hawksbill turtles nesting in Hawaii, it is important to minimize human impacts to the  population as much as possible. Fencing also protects and stabilizes the natural dune systems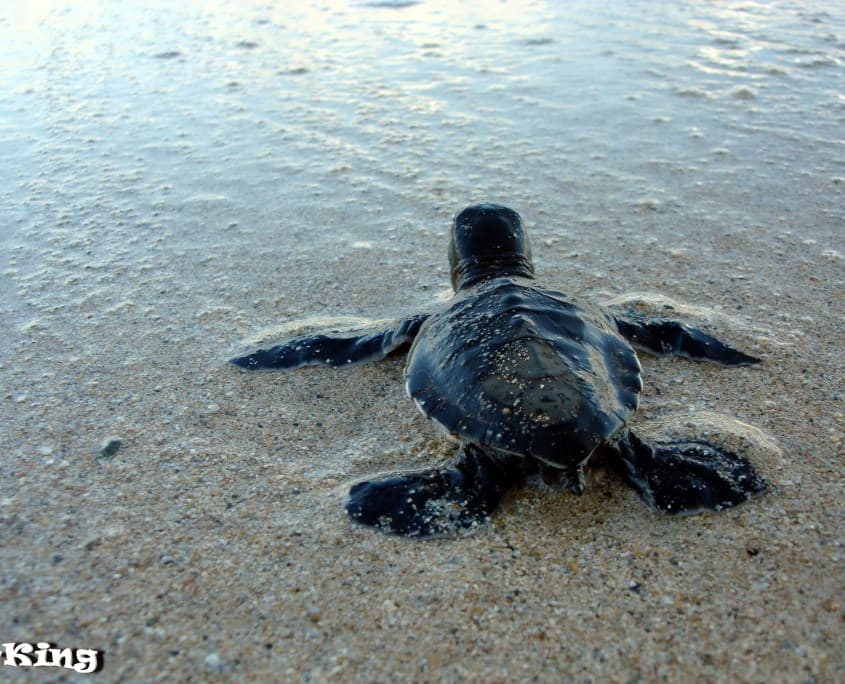 Hawaii Wildlife Fund protects Hawaii's most vulnerable marine animals, organizes public awareness campaigns, trains naturalists and provides marine education for thousands of island residents and visitors each year. Much of the organization's success is attributed to the support it receives from volunteers, private donations, grants, and borrowed manpower and equipment.
Be a Steward of the Earth. Adopt and follow HWF's Reef Use Guidelines when you snorkel or dive the islands' coral reefs. When visiting Hawaii, choose a vessel that employs a HWF-trained marine naturalist.
Work with Hawaii Wildlife Fund. HWF accepts applications for internships, co-ops and/or grant-funded positions on ongoing projects. Please send a cover letter describing your interests, experience, availability and resume to [email protected]
Make a donation. Support Hawai'i Wildlife Fund's ongoing research and conservation efforts with your tax-deductible contribution. You donation directly supports wildlife conservation programs.
Become a HWF Volunteer. HWF volunteers work side-by-side in the field with trained staff members, helping to protect animals and their habitat.
Contact Hawai'i Wildlife Fund at 808.280.8124/[email protected] for more information or visit their website: http://wildhawaii.org/donate.html
What are we forgetting?