When You Love What You Do
You Never Work A Day In Your Life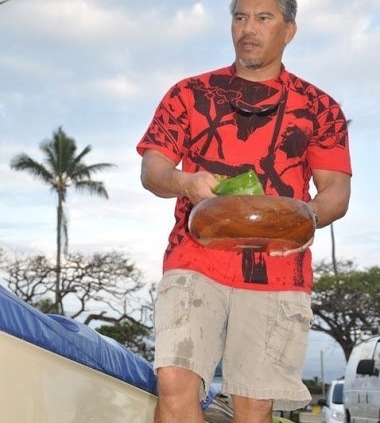 Kepa
Cultural Advisor
Iokepa Nae'ole, known around the islands as Kepa, was born and raised on Maui. Growing up in the Kahului area, a short walk from the ocean, Kepa spent his entire childhood exploring Maui?s north shore, keeping himself busy and entertained with nothing more than a pair of rubber slippers on his feet and his granny's homemade jams (shorts) hanging at his waist. Kepa calls Kahului Harbor his childhood stomping grounds where at a very early age, learned to swim, dive, surf, fish, and – most importantly to him – to paddle an outrigger canoe. Kepa has been a member of the repeat Hawaii State Champion Hawaiian Canoe Club since 1974. After leaving Maui in 1979, subsequently serving in two separate branches of the U.S. Military, Kepa returned in to rekindle his relationship with his ocean and Hawaiian canoe club. After living for ten years abroad and away from Maui, Kepa also felt the need to rediscover his cultural identity. By developing relationships with well known kumu (teachers) who were already heavily involved in the renaissance of the Hawaiian language, hula, arts, and canoe culture, he eventually earned his own title as Kumu. Fluent in the Hawaiian Language, Kepa has many years of teaching experience in the Hawaiian Language Immersion Program, having taught children from preschool age to High School. He also has worked as an educator for The Nature Conservancy of Hawaii where he – through leading interpretive hikes and community service trips - had the privilege of introducing thousands of Mauians and visitors to the wonders of Maui's rain forests. Kepa helped to create and to run Maui?s first alternative education middle school program which integrated core curriculum with environmental stewardship and traditional cultural values. One of his crowning achievements is his participation in the production of a BBC documentary titled, "Hawaii – Message in the Waves", which brings to light the many issues that threaten the health of our fragile marine ecosystems. Today, now a husband and father of six children, Kepa serves as the cultural advisor for HPS where his energies are directed toward developing an ongoing cultural awareness among HPS guides, and to enriching the experience of each and every one of its guests.
Favorite quote: " He Alii ka aina, he kauai keep kanaka." The land is chief, man is its servant.
SUP, Canoe, Kayak Tours & Maui Surf Lessons

Curtis
Kayak Guide, Sup Instructor
Born and raised on the golden coast of California Curtis was drawn to the water at an early age. He first became Scuba certified at age of 16 and has been diving ever since. Curtis has spent the last 4 years discovering the water of Maui as a free diver and kayak guide. Curtis can hold his breath long enough to dive over 100 feet, thats with no tanks or air support. Curtis enjoys adventure and discovering treasures and new experiences offered by the ocean, including shipwrecks and volcanic craters like Molokini.
"Let's put it this way... if I didn't have to eat, drink, and rest, I would always be in the water" says Curtis. Curtis also enjoys athletics and endurance sports and cross country running, he recently completed a number of marathons, a great guide to have on your paddle to Molokini. Curtis also has a passion for photography and especially enjoys underwater photography, another plus since HPS guides take lots of photos for their guests to save the memories of their adventures.
SUP, Canoe, Kayak Tours & Maui Surf Lessons
SUP, Canoe, Kayak Tours & Maui Surf Lessons

Rowdy
Canoe & Kayak Guide, Sup Instructor
She was practically born and raised in the ocean. She comes from a long lineage of paddlers and Hawaiian cultural practitioners and loves being able to share her love and knowledge about the ocean and culture with people from all walks of life. Born and raised on the east side of Oahu in Waimanalo she has 3 siblings: Ruckus (big bro), Rebel (little bro), Riot (baby sis), Rascal (dog)
She recently graduated from Kamehameha Schools as a boarder in Keopuolani Dorm and moved to Maui to continue her education at UH Maui.
Extensive leadership background: student government and dorm council member for 4 years, graduated as the DRAC (Dormitory Residency Advisory Council) President
6 ILH Champion Titles on Girls Varsity and Mixed Varsity Paddling for Kamehameha Schools
4 State Champion Titles on Girls Varsity and Mixed Varsity paddling for Kamehameha Schools
She started paddling and steering at the early age of eight yeas old. She raced outrigger canoe ever since at four different clubs including races in the Hawaii State Championships. She also paddled as part of the Girls Varsity Kayaking team
SCUBA certified
"It's hard to think that I get paid to go to the beach, paddle and share my passion for the ocean with new and interesting people"
SUP, Canoe, Kayak Tours & Maui Surf Lessons

Andy
Kayak Guide, SUP Instructor
Growing up on the whitewater rivers of Tennessee and Virginia, Andrew was drawn to and molded by water early into his life. That love drew him into a career within the places he felt most connected to. For the past 18 years, Andrew has worked in Outdoor Recreation as a manager, guide, and instructor. These skills have taken him all over the world, from hiking the entire length of New Zealand in 2007, to leading multi day kayak excursions in the Pacific North West's San Juan Islands. He has managed and built various zip lines and challenge courses all over the Pacific Northwest, and led multiple guide training events on the class V whitewater of the Skykomish River in Washington State. As a very accomplished waterman, outdoor survivalist, Marine Naturalist, and nature lover extraordinaire, Andrew is more than prepared for any challenge.
Andrew's degree field is in Natural Resource management and Coastal Ecology. He has spent hundreds of hours volunteering with various organizations like the Nature Conservancy, Surfrider Foundation, Hawaii Wildlife Fund, Washington Trail Association, and the New Zealand DOC.
He is a devoted husband and a proud father of two girls, with a passion for photography, free diving, biology, anything science related, and life.
"Be not the slave of your own past— plunge into the sublime seas, dive deep, and swim far, so you shall come back with new self-respect, with new power, and with an advanced experience that shall explain and overlook the old" - Ralph Waldo Emerson
SUP, Canoe, Kayak Tours & Maui Surf Lessons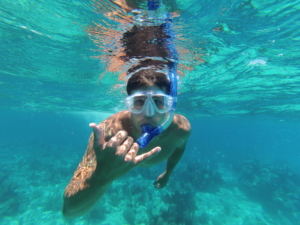 Tim
Canoe & Kayak Guide, Surf & Sup Instructor
Hawaiian Paddle Sports lead guide was born in California, an Air Force brat, his family moved around often and he has lived in Texas, N. Dakota, Key West Florida, Michigan, Ohio, Azores Islands, Pensacola Florida. Tim's first solo move was his best move and landed him in Maui, Hawaii 2004. His third day on island he began teaching surf lessons for a large surf school in Kihei. For six years Tim worked for almost every surf school and kayak company in South Maui. Feeling discouraged by the 'cattle call' approach to ocean activities in Maui, Tim helped create Hawaiian Paddle Sports in January 2010 to give ocean enthusiast a more personal option for their ocean activities. Tim Lara is an accomplished waterman and ocean photographer who enjoys Surfing, SUP, Outrigger Canoe Paddling, Kayaking, Scuba Diving and Free Diving.
Along with being a State champion outrigger canoe paddler and coach at Hawaiian Canoe Club, Tim Lara has become an outstanding community leader. His love for the ocean and environment is seen in his service to Maui's non profits. He has served on the board for the Maui Relay for 3 years, race director/board member for MauiCanoe and kayak club 2009/2010, Pailolo Challenge 2009-2013, Surfrider Foundation 2009-Present.
His interest in Hawaiian Culture has lead him to take several Hawaiian Culture and Language classes at the University of Hawaii. Life guard, water safety, emergency first responder and first aid trained.
SUP, Canoe, Kayak Tours & Maui Surf Lessons

Fred
Seasonal Kayak Guide
I go where the whales take me, and they lead me to island of Maui & Hawaiian Paddle Sports. I was eager to work with HPS, for they have a great reputation among the conservation community. When I joined the team, I found it a pleasure to lead the private trips. We are able to deeply explore nature and shape the interpretive message to the interests of the guests. As guides, we share knowledge among ourselves and attend natural history lectures. We are outfitted with cameras so we can document rare wildlife (such as monk seals), and report these sightings to conservation biologists. Should we encounter entangled whales or other distressed wildlife, we carry marine radios, allowing us to contact responders at NOAA and other agencies. We arrive early at the beach to pick up trash and promote the use reef-safe sunscreen. We strive to set an example of best practices with conscious paddling around whales, dolphins and turtles.
Dr. Fred Sharpe has spent the last 25 summers among the humpback whales of SE Alaska. Fred's specialty is the bubble-net hunting of humpback whales, and he loves to share his knowledge on whale communication, social behavior, and formation of teams in animal societies. He is also a naturalist in the classical tradition:Fred is co-author and illustrator of Wild Plants of the San Juans, Birding in the San Juan Islands and Voyaging with the Whales. He hopes humpback whales will also lead you to Maui, and to the fun and insight offered at Hawaiian Paddle Sports!
• Founder and Principal Investigator: Alaska Whale Foundation
• First Responder: Alaska Large Whale Disentanglement Network
• Member: University of California Botanical Gardens at Berkeley
SUP, Canoe, Kayak Tours & Maui Surf Lessons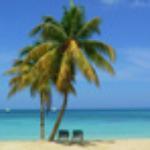 The professional guides at Hawaiian Paddle Sports are the best in the business. I was very impressed with the service, environmental knowlege and hostpitality showed by John and Ari, our guides on Maui. I give them my highest recommendation.
This company is epitome of what service should be.  Tim was great at communicating via email and by phone prior to our arrival in Maui.  I appreciate the company's commitment to the marine life, taking care of the environment and ensuring that experience remains for all to enjoy for decades to come.