We're growing Movember moustaches for a good cause (not just for good looks!)
Moustache season is here! The Movember Foundation enters its 13th year as the leading global organization to change the face of men's health.  Starting today, men and women are encouraged to become an official participant by signing up at Movember.com and committing to grow and support the moustache – and only the moustache – during Movember, the month formerly known as November.  Funds raised go towards supporting innovative world-class men's health programs supporting four key areas: prostate cancer, testicular cancer, poor mental health and physical inactivity.
Movember challenges men to grow and women to support a moustache or make a commitment to get active and MOVE for 30 days. Both are about taking real action for health and are done to spark conversation and raise vital funds and awareness for men's health.    Since 2003, millions have joined the men's health movement, raising $650 million and funding over 1,000 programs focusing on prostate cancer, testicular cancer, poor mental health and physical inactivity.
Prostate and Testicular Cancer:
Investments go to research and health services that contribute to less men dying from prostate and testicular cancer and to improve the quality of life for those that live with the disease.

Prostate Cancer is the 2nd most common cancer in men in the US.  1 in 7 men will be diagnosed with prostate cancer in their lifetime.
8,430 new cases of testicular cancer are diagnosed in men each year.  It is the most common cancer in you men aged 15-34 years old.
Poor Mental Health:
Mental health is an integral part of health. Movember supports programs that help men and boys stay mentally healthy such as health services that will focus on community-level prevention programs to improve mental health.

1 in 4 adults in the US will experience a mental health problem in a given year.
87 men take their life through suicide each day in the US.
Physical Inactivity:
Movember Foundation invests in projects that encourage men to be physically active and get them to move more.

Only half (53.8%) of American men meet the federal guidelines for physical activity.
More than 1/3 of American men >20 years old are obese
This year's MOVEMBER campaign has a powerful message.  We want men to live happier, healthier, and longer lives.  While the organization has made great strides, there is still much work to be done. When it comes to their health, too many men don't talk, don't take action, and die too young.  Whether you grow your own mo, kick up your physical activity a notch, or talk to a friend, we are all champions for men's health.
You can help support the Hawaiian Paddle Sports Movember Team by visiting our page and donating to the largest men's health movement.  And don't be shy to help a Mo out — start a conversation, save a life.  Mahalo!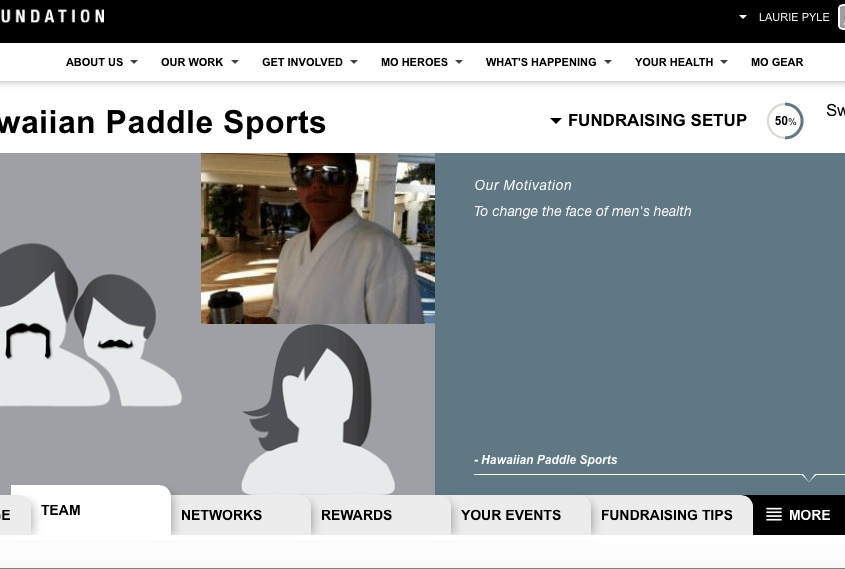 For more information, please visit Movember.com.
What are we forgetting?