Aloha! We are excited to announce that Maui has just been named TripAdvisor's Best Island in the United States and #2 Island in the World! While countless residents and visitors have known this all along, we're excited to see that everyone else finally agrees, too. We are so honored to be recognized as TripAdvisor's #1 Outdoor Activity on the #1 Island in the country, and hope you'll come see what all the fuss is about alongside us on your next trip to tropical paradise.
Please enjoy our highlights of Maui's Best Activities and TripAdvisor Reviews.
Outdoor Activities in Maui
Since 2011, our company has been awarded TripAdvisor's Certificate of Excellence for our commitment to sustainable tourism and unique cultural tours on Maui. Our team of professional, friendly tour guides, many of whom are certified Marine Naturalists, lead guests on a variety of private kayak tours, outrigger canoe tours, surf lessons and stand up paddleboarding lessons at the absolute best locations around Maui. We have worked hard to become the #1 rated Outdoor Activity on Maui, and want to thank our guests for their generous feedback on TripAdvisor and extended social media channels. Please visit TripAdvisor to read more of our guest reviews.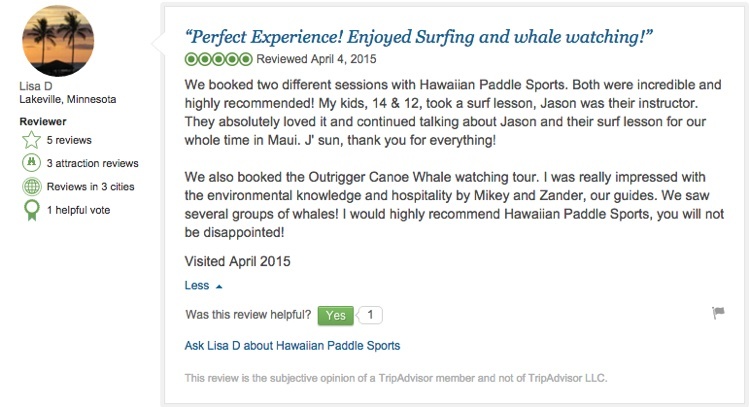 When traveling to Maui with friends and family, a kayak tour can be one of the most enjoyable and convenient activities for all members of the group, no matter what their level of comfortability or experience in the ocean. Maui Kayak Adventures offers group kayak tours, including snorkeling and whale watching (during season), at the most popular and scenic locations in West and South Maui. Their high standard for local marine and cultural education, not to mention their continued commitment to sustainable tourism, are just a couple of reasons this new Maui kayaking company is making a splash. Please visit TripAdvisor to read more Maui Kayak Adventures reviews.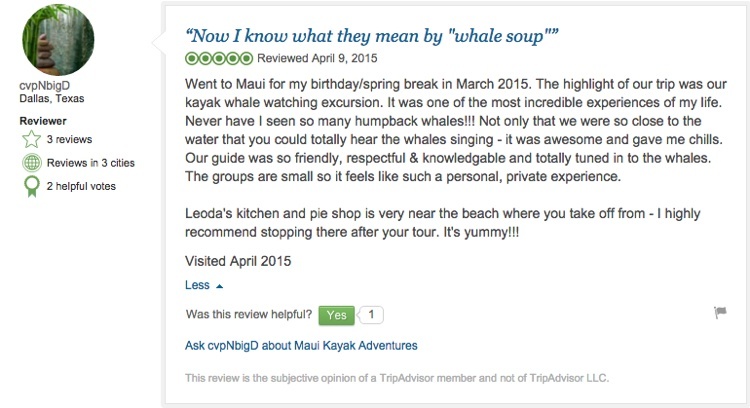 Hawaii is the birthplace of stand up paddling, so it only makes sense that it's one of the most popular ocean activities to do on Maui. A brand new company in Kihei, Maui Stand Up Paddle Boarding offers guests a variety of ways to experience stand up paddling, including private SUP lessons, tours, and rentals. If you've never tried SUP, a private lesson with a certified instructor is a great introduction to the sport. Otherwise, guests can choose from a scenic tour of Maui's best SUP locations, or for those with more experience, rent a board and explore on their own. Please visit TripAdvisor to read more Maui Stand Up Paddle Boarding reviews.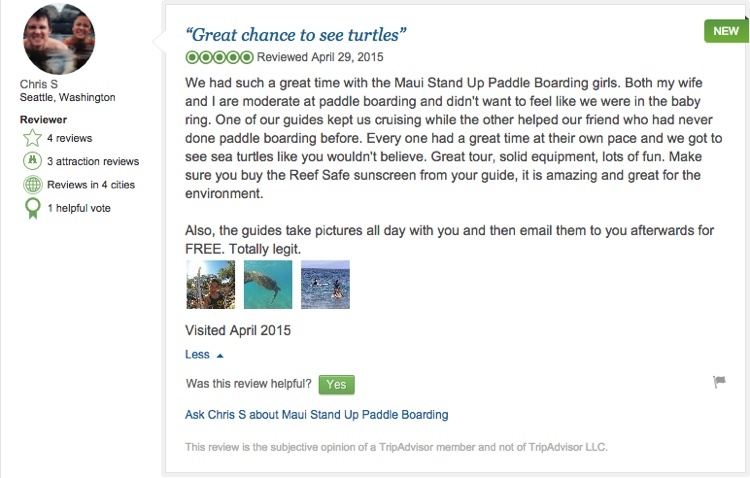 Boat Tours
&

Other Activities in Maui
Trilogy has been a longtime fan favorite for boat excursions on Maui. With several excellent tours to choose from, including snorkeling and whale watching trips to Molokini Crater, Kaanapali, Olowalu, and the neighbor island of Lanai, as well as sunset sailing tours with top shelf cocktails and pupus, Trilogy has something for everyone. The level of service is consistently excellent, and paired with their convenient departure locations and dedication to keeping Maui's reefs healthy, it's no wonder guests return again and again. Please visit TripAdvisor to read more Trilogy reviews.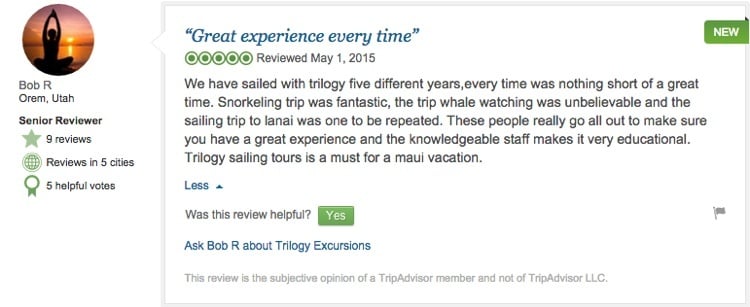 Departing daily from South Kihei Boat Ramp, Redline Rafting offers intimate boat tours aboard their customized raft. With a max of 24 guests, Redline's speedy raft allows them to take arrive at several popular locations and hidden gems before most other boats, including the inside and back wall of Molokini Crater, La Perouse Bay, and Makena's famous Turtle Town. Breakfast, lunch and snorkeling equipment are included on tours, and they also offer excellent whale watching from December to April. We have recommended Redline many times for their top notch service and fun boat ride. Please visit TripAdvisor to read more Redline Rafting reviews.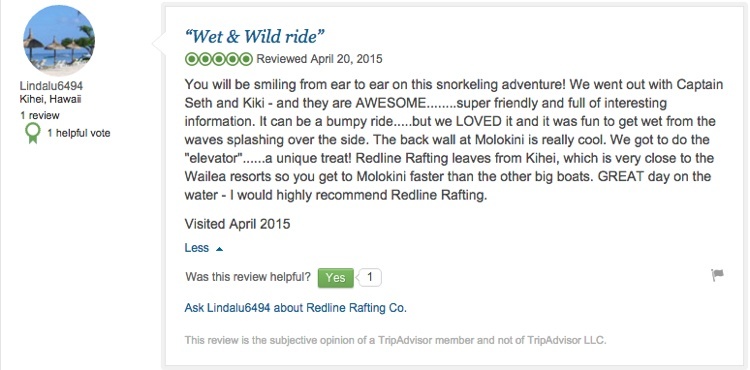 Aerial views of Maui are in a class of their own. Blue Hawaiian Helicopters has over 30 years of experience on several Hawaiian Islands, but our favorite tours are undoubtedly on Maui. The lush rainforest of East Maui, hidden waterfalls of the West Maui Mountains and views of Haleakala Crater are unforgettable, and the comfortable seating along with educational commentary from the pilots only makes the ride (and views) that much more enjoyable. Please visit TripAdvisor to read more Blue Hawaiian reviews.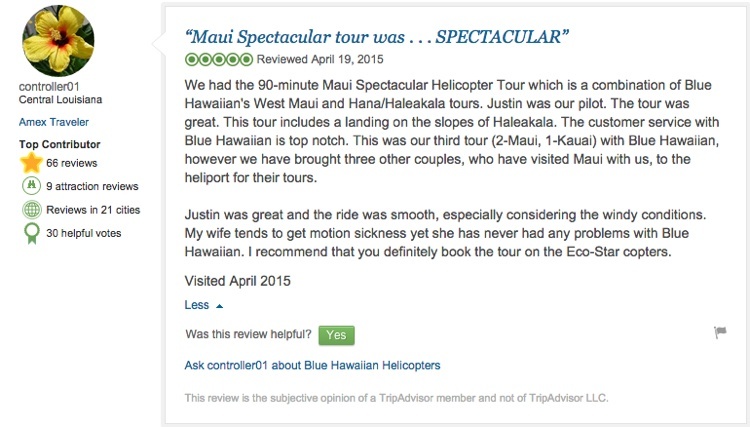 #1 Ululani's Hawaiian Shave Ice
It's only fitting that the #1 and #2 rated restaurants in all of Maui are Ululani's Hawaiian Shave Ice in Kihei and Lahaina, respectively. You may think you know shave ice, but you haven't really experienced how good it can be until you've tried Ululani's. With no artificial syrups and unique local ingredients like azuki beans, mochi, and shredded toasted coconut, just to name a few, their flavors go above and beyond delicious. Try the No Ka Oi (Coconut, Mango, Lilikoi) or Local Motion (Mango, Li Hing Mui, Pineapple) for the best results. Please visit TripAdvisor to read more Ululani's reviews.
#1 Haleakala Crater
Large enough to fit all of Manhattan, Haleakala Crater is a definite must-see on your trip to Maui. Make the drive through the winding, rolling hills of Upcountry Maui before reaching the 10,000 foot summit of Haleakala Volcano for a stunning sunrise above the cloud line. For travelers who prefer a later start-time, sunsets can be equally as impressive. Just remember to pack plenty of warm clothing and your camera! There are also several options for hiking in the crater that make for a memorable day adventure. Please visit TripAdvisor to read more Haleakala Crater reviews.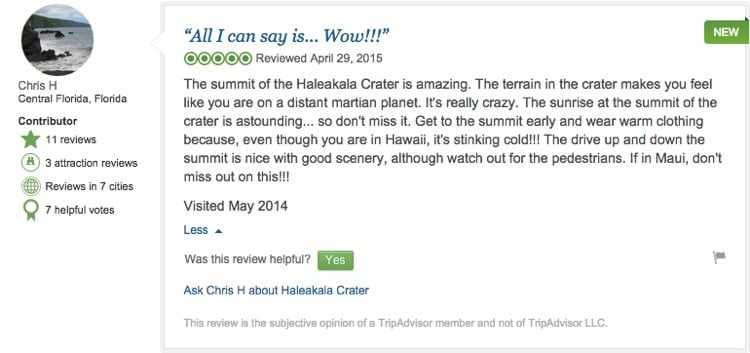 Sights
&

Landmarks in Maui
#1 Banyan Tree Park
Originally planted in 1873 to commemorate the 50th anniversary of Protestant missionaries arriving in Maui, Lahaina's famous banyan tree now spans an entire acre. This is an excellent place to kick back and relax under the shade or peruse work from local Maui artists, crafters and photographers. This is also the location for Maui's annual Front Street Halloween costume contest, which is typically the most popular night of the year to go out on Maui. Please visit TripAdvisor to read more Banyan Tree Park reviews.

Mahalo for reading Maui's Best Activities & Reviews! We are thrilled to be able to call Maui home, and to have the opportunity to share its magic with our guests. For more information about the top rated activities and attractions on Maui, please visit the Maui TripAdvisor page.
What are we forgetting?