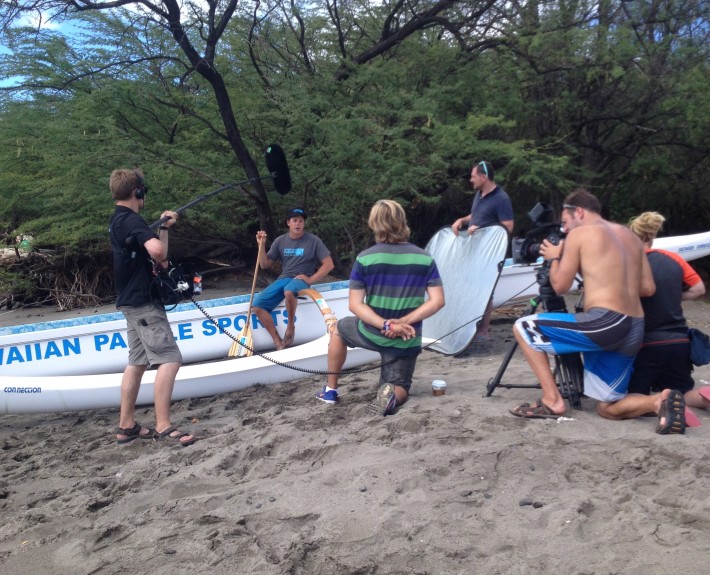 Recently we had a special request for an Outrigger Canoe Tour.  A film production company, Impact (impactcreators.com), was coming to Maui to shoot a promo video for a resort and wanted to include our Hawaiian Outrigger Canoe Tour as part of their video.  They had read great reviews about Hawaiian Paddle Sports on Trip Advisor and Yelp, so they felt certain we were the right fit for their film.
The Jolliffe family, who they brought to be their 'actors',  were A LOT of fun to have on our tour.  They aren't actors in real life, they're just a regular family who was chosen to do some really cool activities in Maui Hawaii and have their entire vacation professionally documented and made into a movie!! How cool would that be?!
We had great visibility for the snorkeling portion of the tour and were able to see lots of tropical fish, vivid reefs, green hawaiian sea turtles….. MORE TURTLES! There was also a little bit of a west swell so we were able to catch a few waves and do some canoe surfing!  Fresh coconut juice to end the day while making coconut fiber rope as we do on most tours, then we said 'a hui hou' to our new friends.
We had such good time with the film crew and family that IMPACT offered to make us a short little promotional video for Hawaiian Paddle Sports.  I think you'll agree, they did an awesome job!  We couldn't be more happy with the final result.
Mahalo to Noah Katz, Jolliffe Family, Impact for a great day on the water.
Enjoy!
What are we forgetting?