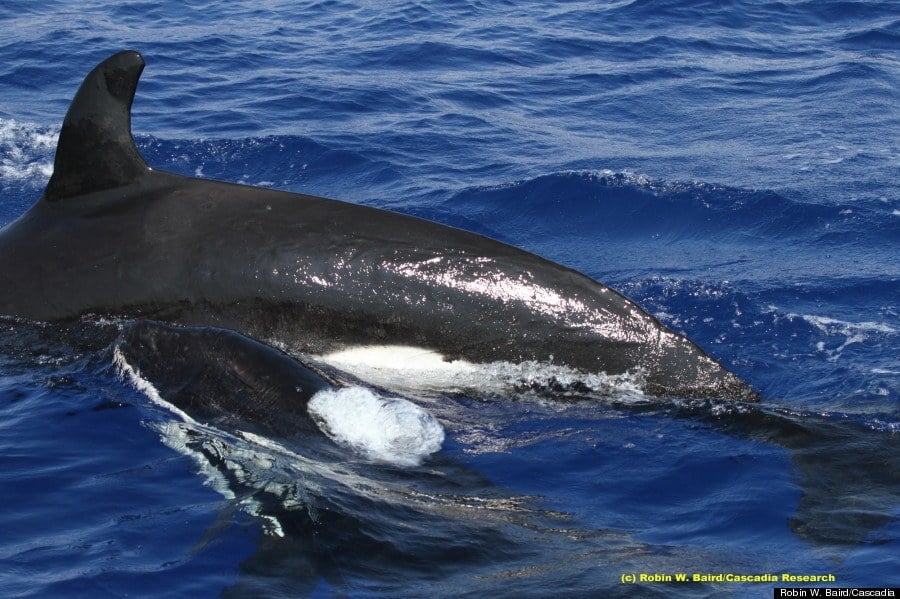 A pod of four Killer Whales, Orca Whales, was found by Cascadia Research Collective on Friday 11/1/13 off the coast of Kona Hawaii. This is only the groups third encounter with the Killer Whales even though they have been monitoring the Hawaiian waters for 14 years!!!  Killer whales are one of 18 marine mammals found in the Hawaiian Waters however many of these are rare and never seen.  Some of the more common marine mammals found in Hawaii are: Humpback Whales, Monk Seals, Bottle nose dolphins, Spinner Dolphins, Stripped Dolphins and other dolphins and whales.
Fisherman have spotted killer whales in years past but they are usually traveling at high speeds and photos or video of them in Hawaii are rare.
Rare documentation of Orcas in Hawaii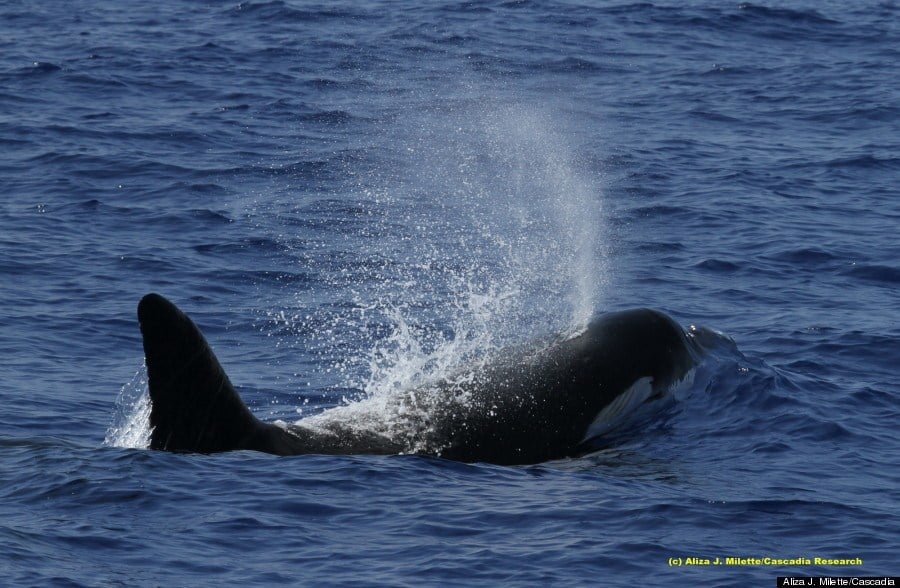 With the limited exposure to Killer Whales in the Hawaiian waters its even more rare that someone actually gets the opportunity to document their sightings.  Robin Baird, Aliza Milette, Russel Andrews and Julie Steelman were able to get photos and video of the killer whales above and below the water.  This is the first time that killer whales were documented under water in Hawaii.
See Underwater Killer Whale Video by Julie Steelman Here:  Killer Whale Video Hawaii
Killer Whale Research and Tracking in Hawaii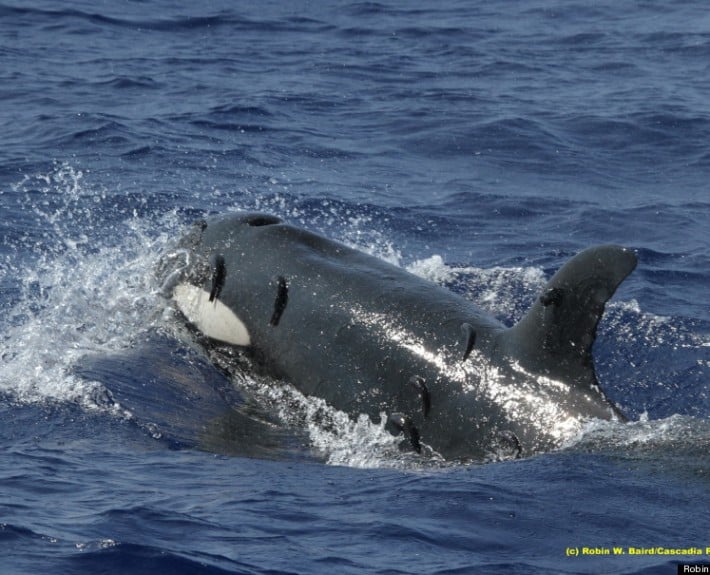 The researchers were able to deploy a satellite tags, as seen on dorsal fin in photo to left, on three of the four killer whales.  This is the first time researchers have been able to tag Orca whales in Hawaii to track their movements around the islands.  The researchers were also able to collect a biopsy sample for genetic research. "Most studies of killer whales worldwide have either been in the Pacific northwest in Alaska or down in the Antarctic," research biologist Robin Baird, Ph.D. told the Huffington Post. "There has been relatively little work that's been done in the tropics."
"This is the first time tropical killer whales have been satellite tagged, and even getting the photos to identify the individuals and the biopsy sample for genetics is really quite an accomplishment in itself," he said.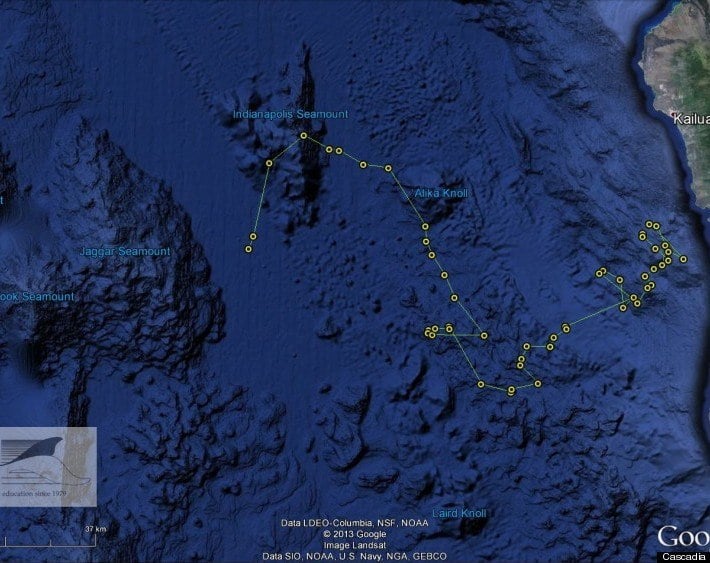 In the image to left you can see where the Orca Whales have travelled since being tagged.  This photo is current as of November 5th 2013.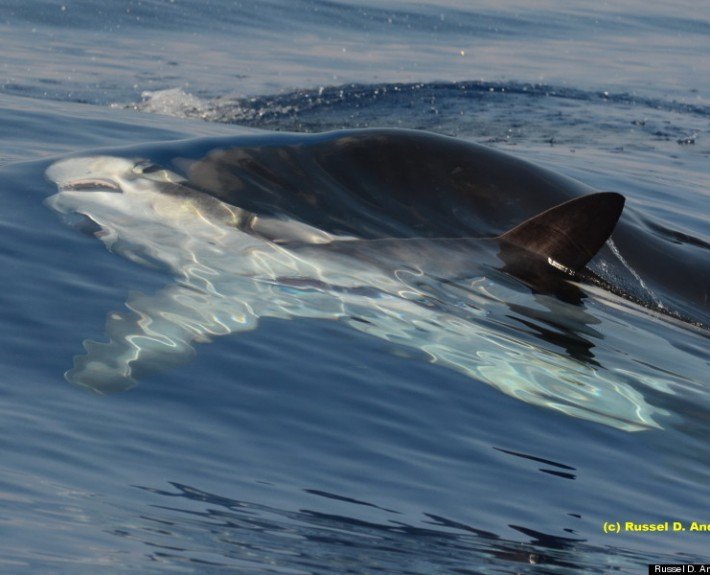 Even though their field project had officially ended the researchers went out the following day and located the pod using the satellite tracking devices. They were again able to document the pod and this time took photos of a male Killer Whale feeding on a 15 foot Thresher shark.  See photo to the left.  We often ask our guests on our Humpback Whale Watching Tours if they know what the #1 predator of Humpback Whales are?  Often times they guess Great White Sharks, but its actually the Killer Whale, as they hunt in packs and are able to separate the baby humpback whales from their mothers.
If you enjoyed this post Please "LIKE"    "SHARE"    "TWEET"   "+1"   This post by click on the icons to left of article….  your friends will probably like it too:)
To learn more about Hawaiian Paddle Sports Humpback Whale Watching Tours please visit our website by clicking here :  Humpback Whale Watching Tours
What are we forgetting?