For years now we have been gathering together on Thanksgiving day morning to celebrate the aloha in our paddling community. Bringing food, donations and burning off some calories before putting them back on.
This tradition has been held together by big hearts throughout the years, including Team Primo and volunteers from the former Maui Canoe & Kayak Club. Last year Hawaiian Paddle Sports took their lead and raised over $4,300 in cash donations and collected over 650 pounds of food.  We are hoping to raise a record amount of food and funds for those in need on Maui this holiday season. Will you join us?

This is a for fun, anything that floats, jungle rules… "race". We will not record times so look around and see where you finish for bragging rights.  There are usually a lot of little races within the over all race.  Everyone is a winner and door prize tickets will be given to everyone who registers, so stick around after the race for your chance to walk away with some from our sponsors.
This event is FREE and open to the public. Participants are encouraged to bring a non perishable food item and/or donation for Maui Food Bank, sliding scale based on your ability.  Make checks payable to: Maui Food Bank
For a good cause and good times, we hope to see you at the Maui Paddle For Hunger Thursday 11/24/2016!
The Paddle For Hunger Event Details
Course, Safety and Registration
Race Course: Kihei Canoe Club to Turn Buoy at Kelia Pond River Mouth/Pavillion and back to Pier.   Short Course: Turn early…. anywhere, No Shame.
Vessels: Outrigger Canoes (OC 1-6), V1, Surfski, Stand Up Paddle Board, Prone Paddle Board… or anything else that floats.
Safety: Please be respectful of our water safety team.  If your vessel is slower please take the 'short course' and turn early.  Its Thanksgiving Day and we want everyone to be able to get home to their families.
Mahalo!
Stay in the loop and be notified of event updates and news on the Paddle For Hunger Facebook event page
Sponsorship
Donate cash or prize (door prizes and/or auction items) valued $250 or more and your company logo will be on the event website and back of the event T-shirt. Large logo for donations $1000+, Medium logo for $500-$999 and small logo for $250-$499.
*All participants will walk away with a door prize to award them for raising funds and food for the Maui Food Bank. A silent auction will be open to the public. All proceeds go to the Maui Food Bank
Free Event Tee Shirt
For All Monetary Donations $20+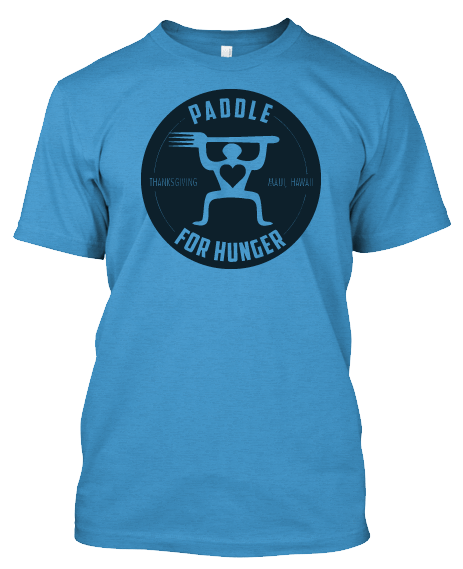 Ready to pre-register or simply want to make a donation? Event T-shirts donated by the sponsors for all those who donate ($20+)
Donation
&

Pre-registration Coming Soon