Hawaiian Paddle Sports is Joining the Eat Less Plastic Voyage
This voyage was pioneered by Actor, Philanthropist, Master Diver and Captain, Phil Somerville. His love of the ocean and desire to conserve it for future generations such as his children, have incited him to spend four months sailing his 54' monohull sailboat 'Today' from Marina Del Ray to his home of New Zealand. The purpose of this sail is to collect ocean plastic data, speak to the inhabitants of the Pacific Islands along the way to see what they are doing to combat the issue and to document it all in sharable educational video format. To date, no one has collected plastic pollution data along this route.
The Crew aboard TODAY are participating in the 5 Gyres
Trawl Share Program
. A trawl is an aluminum device that is deployed off a boat that skims the surface of the water with a fine mesh net to collect plastics.
Crew will then divide the collection into categories:
micro-plastic vs macro plastic. A 5mm gridded paper serves as a measurement device. Anything that fits within the 5mm box is micro plastic, anything that does not is macro plastic. Beyond that, the team will separate refuse into the following subgroups:
Film – plastic fragments, chip or candy wrappers

Fragment – hard pieces

Foam – soft pieces

Line – bits of fishing line

Pellet – plastic pellets
Numbers provided will give researchers a more accurate sample of what is out there.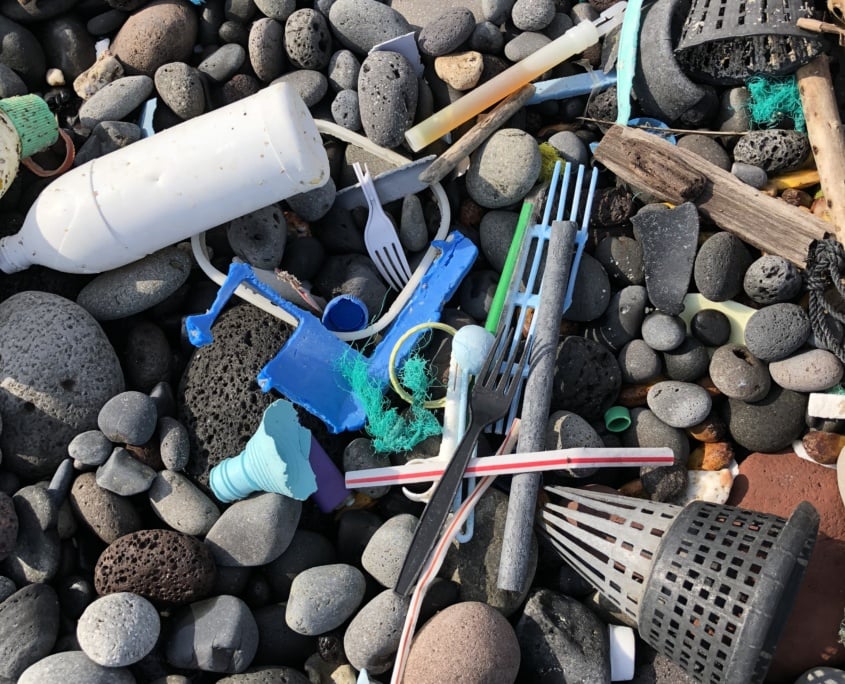 According to a 2014 study by international scientists in collaboration with the non-profit 5 Gyres, there were 5.25 trillion plastic particles weighing 268,940 tons in the world's oceans. Every year thereafter, another 8 million tons of plastic is dumped into the ocean. The Crew aboard the sailboat TODAY will be collecting vital plastic debris data in previously unstudied waters. We invite you to join them on this journey by making a financial donation (at any amount) which will help offset the enormous cost of this citizen science project. Research tools and materials, fuel, food, safety equipment, airfare, film crew and outreach materials are necessary to the success of this project and the end goal of sharing the research and story with school  and community groups. Hawaiian Paddle Sports will match dollar for dollar the first $2,500 donated to this campaign.
The Great Pacific Garbage Patch
According to a 2014 study by international scientists in collaboration with the non-profit 5 Gyres, there were 5.25 trillion plastic particles weighing 268,940 tons in the world's oceans. Every year thereafter, another 8 million tons of plastic is dumped into the ocean. Plastic is an amazing innovation. It has an incredible strength to weight ratio, high durability and is fairly cheap to make. Businesses and in turn their consumers want to make their money go further. Naturally, they choose products that are cheap and durable. The very attributes that make plastic so appealing, also make it highly detrimental to our oceans. It doesn't break down and because it's cheap, there's a lot of it. The average American generates an estimated 185 LBS  of plastic trash per year. Each of those plastics takes an average of 200 years to break down. That's twice a human lifespan!
So what happens when plastic trash is dumped into the ocean? A lot of it collects in ocean gyres. Global winds cause surface ocean currents to flow in a circular fashion. According to 5 Gyres, plastic trash accumulates in the center of these currents for about 10 years before it is either blown out, sinks, or gets eaten by marine life. There are 5 known ocean gyres with the Great Pacific Garbage Patch being the closest to the Hawaiian Islands. Though many media outlets love to glom onto the image that the gyre is a plastic island the size of Texas, it's actually not. Plastic trash isn't something that just huddles together in the middle of an ocean current. It's not out there, out of sight and out of mind for good. Wouldn't that be lovely? It's actually constantly breaking down into smaller and smaller pieces of plastic debris creating a concentrated soup. This concentration eventually makes its way out of the gyre and into the currents that circle the globe.
Sadly, you do not need to jump on a boat and head out to the gyre to see its effects. It's right here on our beaches. Many people who visit the beautiful island of Maui never see the evidence of the Great Pacific Garbage Patch. Reason being, visitors and locals alike tend to gravitate toward the soft sandy and protected beaches. It's generally not as comfortable to sit on a rocky and or windblown beach. This is precisely where the plastic marine debris washes up on shore. At our current rate of consumption, our future generations won't have the joy of visiting the white sands of
Wailea
or the black sand of Wai`anapanapa, they'll be playing on confetti colored beaches comprised of microplastics rather than sand.
Plastic marine debris is harmful to our ocean inhabitants on many levels. We know plastic 6-pack rings get stuck on fish and turtles, inhibiting their growth or choking them. We have seen sea turtles with plastic straws stuck in their noses. A new documentary shows an albatross dying from a stomach full of impassable plastics. Humpback whales are regularly rescued from entanglement in plastic fishing nets. A recently deceased pilot whale when exhumed was found to have over 20 LBS of plastic bags in its stomach. Organisms on the ocean floor at depths of up to 5200 meters have been found to have ingested plastics. More recently, plastics are showing up on our plates in our seafood. Scientists estimate that there will be more plastic in the ocean than fish by the year 2050. Even if you do not consume seafood or any animal products for that matter, this statistic should ring an alarm bell for you. Micro-plastic presence in our seafood is evidence that the world's marine animals are eating it. Though there are not sufficient studies surrounding the health effects in humans who eat plastic, we have a pretty good idea it is not great for us. Many people have heard about Bisphenol A, more commonly known as BPA plastic. Some studies indicated this plastic used in for packaging can leech into the very food it is holding. Once consumed, the human body confuses it for estrogen, allowing it to interfere with the endocrine system. Full details on the health effects of BPA can be read HERE. Countless companies started switching packaging and advertising that their products were BPA free. Lab tests show micro plastics found in human lungs may cause an inflammatory response.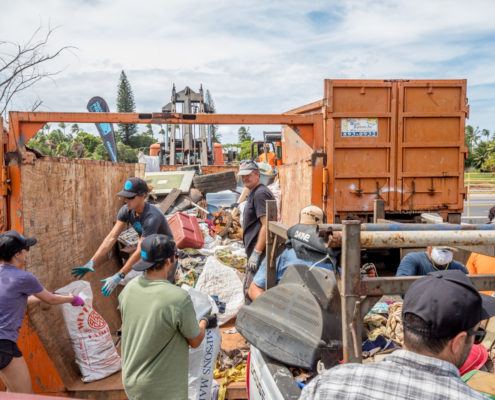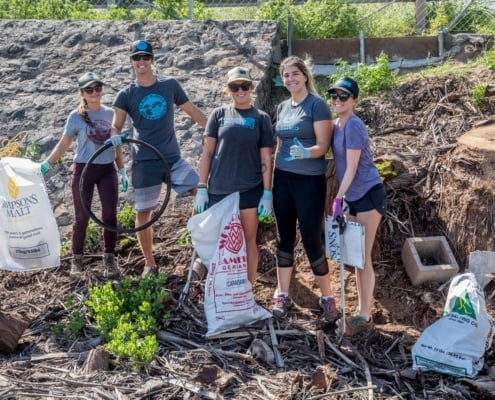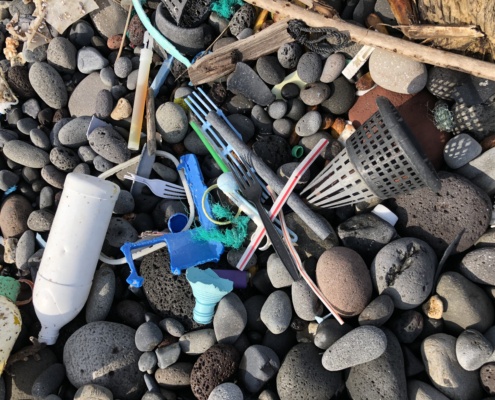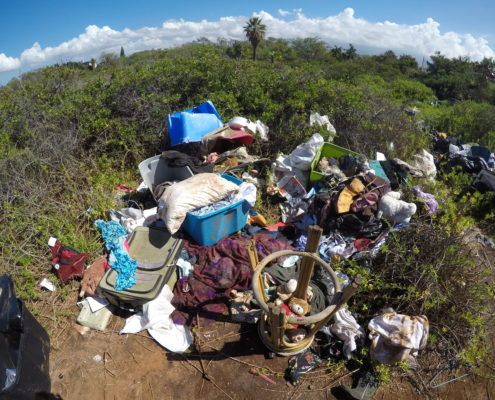 Aerial photo of crystal clear water at Olowalu in Maui
The mission of Hawaiian Paddle Sports is to provide authentic sustainable eco-tours that empower our guests to discover a deeper appreciation of and connection to Hawaii's marine environment. With a mission like this, we had better practice what we preach. One of our guiding principles is the Hawaiian value of kuleana, or the marriage between rights and responsibilities. If we have a right to access the ocean, play in the ocean and make a living in the ocean, then we also have a responsibility to care for the ocean. We do this in a few ways. Employees participate in monthly
Malama Maui service projects
, ranging from beach cleanups and wetland restoration to manning
zero waste stations
at events to educate and divert trash from our landfills. Guides and Instructors do a beach cleanup before every tour or lesson and pull out any trash they find in the ocean while out on the water. Sadly, we are seeing the evidence of plastic pollution every day, both on our shorelines and in the water. We are way out here on one of the most remote islands in the world and believe others need to see what is happening in the habitat where their food is coming from. Food aside, let's also not forget, the Hawaiian islands have a large number of endemic species. Endemic means these animals are found nowhere else on Earth. According to the
Huffington Post
,
"Hawaii makes up less than 0.2% of U.S. land, but over 25% of species found on the nation's endangered species list are endemic to Hawaii, earning it the rather unflattering title of "endangered species capital of the world."
We've got our work cut out for us. That's why we need to back campaigns like Eat Less Plastic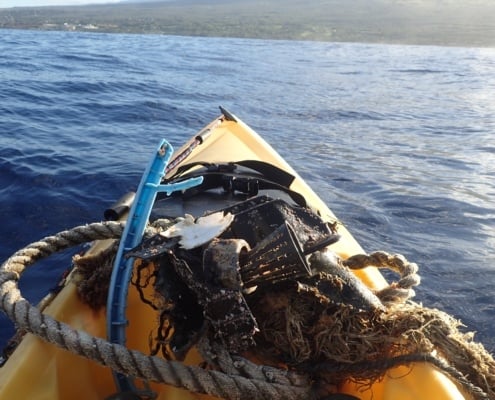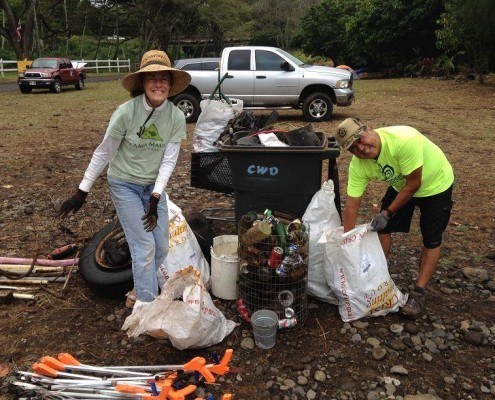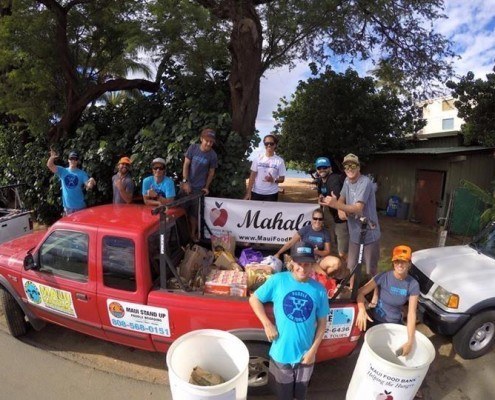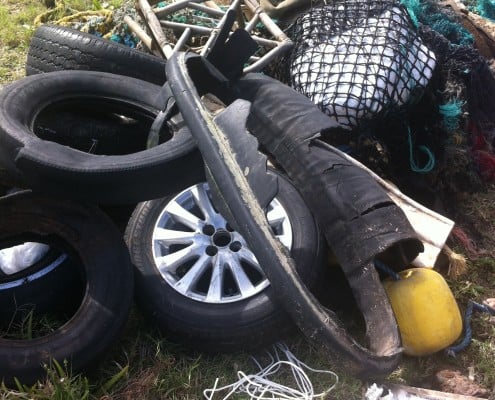 Photos of trash removed from the ocean during Hawaiian Paddle Sports tours
Support A Plastic Free Ocean
Whether financially, physically on the boat or in your daily life, you can be a part of this important voyage.
How to Reduce Plastic Waste
Consider a Reusable Straw
Think about the last time you used a drinking straw. How long did you use it? Did you know straws are not recyclable and can take up to 200 years to decompose? These days there are a lot of cool alternatives. Some restaurants are exploring the use of paper straws and even pasta. Consider investing in a reusable straw and bring it with you. Check out the list over at TheLastPlasticStraw.org for details.
Bring a Reusable Water Bottle
We all need water and most of us could stand to drink more. Investing in a reusable water bottle could be beneficial for both you and the environment!
Use a Reusable Coffee Mug
Coffee seems to be the one to go item where establishments do not refuse the use of a personal container for sanitary reasons. All coffee drinkers should bring their own mug. When you need coffee, you might be a little fuzzy so it's a good idea to keep one in your car or bag at all times.
Pack Reusable Cutlery
Plastic cutlery is yet another product with a very shot usage period that takes a very long time to decompose. Plus it is not even pleasant to use! If you like to go camping, you might already have packable cutlery that should not be reserved just to come out in the backcountry. There are a lot of options out there, but you could also just pick up a few regular stainless steel pieces at Goodwill or Salvation Army. That way you don't have to worry about loosing a part of your household set.
Buy Glass and Aluminum
There are recycling cans and bins nearly everywhere these days, but did you know a lot of plastic can only be reused one time? It's also a lot more expensive than making new plastic containers. Glass and Aluminum can be reused indefinitely, so look for food in these materials whenever possible.
Pick up 5 Pieces of Trash
Organized beach cleanups are fantastic, but we can do our part in everyday life. Make a commitment to pick up 5 pieces of trash during one or your favorite activities. Whether it's before surfing, hiking, running or walking the dog, you will find it is a lot easier than you think to find 5 pieces and every litter bit counts.
Please consider sharing this post so we can meet our fundraising goal.
Have a tip on reducing plastic waste that is not covered here? Tell us about it in the comments below. Mahalo!
What are we forgetting?