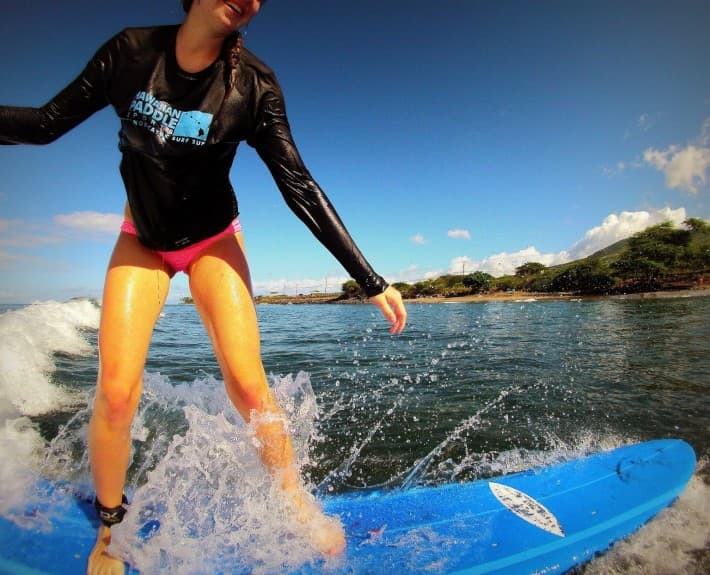 Every year, tens of thousands of people are lucky enough to ride a wave in Maui.
Whether it's catching a wave at Hamoa Beach or surfing at Honolua Bay, the surfing in Maui is some of the best you'll find anywhere in world.
For visitors spending their vacation on the island, taking a Maui surfing lesson is one of the best ways to enjoy the waves. Feel the energy of the ocean beneath you as it splashes over your feet, and harness the invigorating amounts of energy that an hour spent surfing can bring.
That being said, for all of the positive benefits of surfing, failing to follow proper surf etiquette can turn a session sour. To help ensure your time on the water is safe, enjoyable, and entertaining, following a few of these basic tips will help improve your surfing in Maui.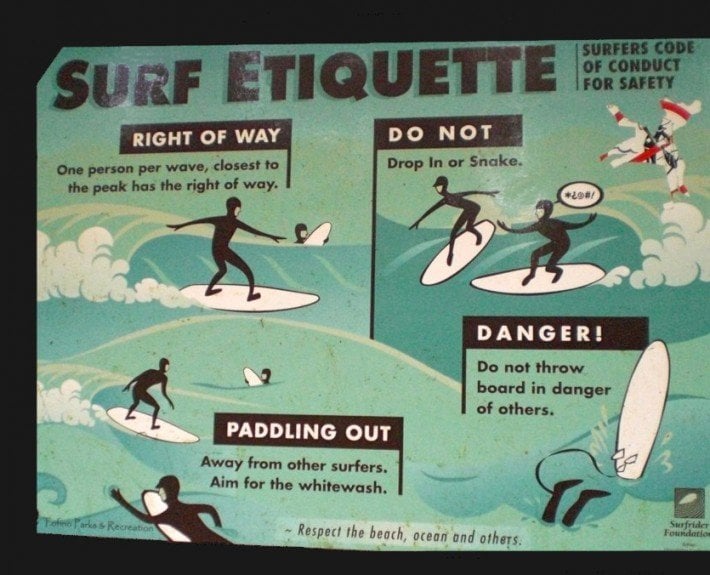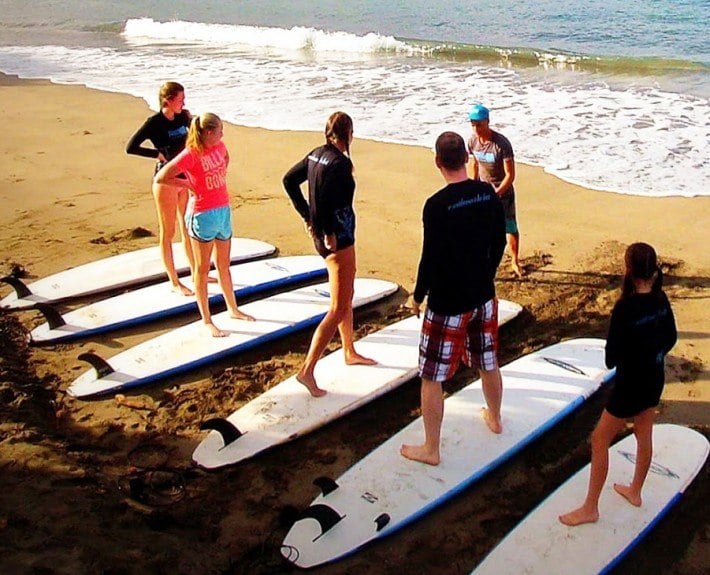 If you're a visitor, a novice, or just want to learn the sport, taking a Maui surfing lesson is an instant springboard to success.
Sure, you can always rent a board and make an effort to teach yourself, but even a single hour with an instructor can save you countless hours of struggle.
Learn the proper techniques for paddling so you can successfully stroke into waves, and learn the best spot to wait for the waves so you don't end up stuck on the inside. Not only will a surfing lesson give you the proper techniques, but it will also make you a safer surfer for yourself and everyone around you.
If In Doubt, Don't Go Out
Once you've taken a few lessons and are surfing on your own, matching the conditions with your own skill level is paramount to safety and success. The waves in Maui can get pretty big, and paddling into conditions that are too big for you can be hazardous for yourself and others. Surfing is meant to be relaxing and fun, so if you feel that the waves are just a little too big, seek out a place with safer conditions. For more information on Maui's surf, check out our post on Where does Surf in Maui Come From to understand waves and the seasons.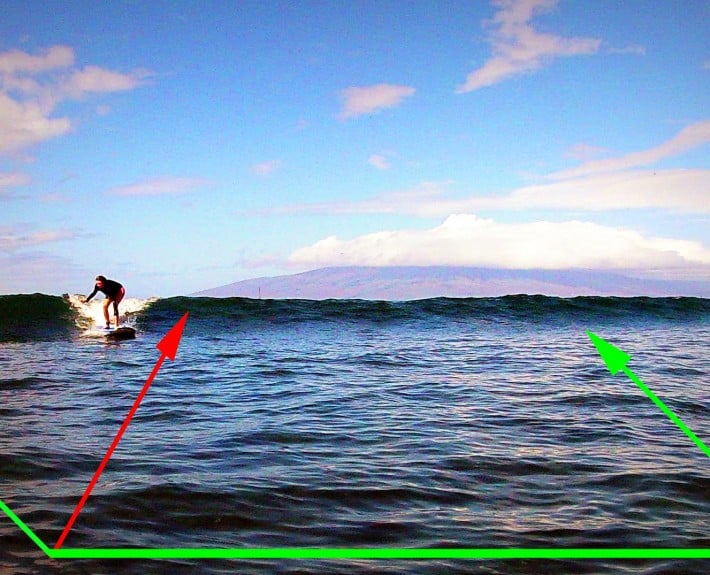 Stay Out Of The Way When Paddling Out
Where you paddle is one of the most important parts of following proper surf etiquette, and the general rule is that you want to stay out of the way of surfers who are riding a wave. In order to do this, you have two different options:
Paddle away from the wave towards an area where it isn't breaking, or, assess the direction the surfer is moving and then paddle away from their path.
The most important rule is that once you start paddling you must maintain the same direction. Indecision about where you're paddling—or continually changing directions—will lead to confusion between you and the surfer and could end up resulting in a collision.
If a surfer is riding straight ahead as shown in the image above, avoid crossing the surfer's path and paddle to the side instead. If a surfer is riding along the face of the wave (as advanced surfers will do), aim for the whitewash behind where they're surfing and avoid crossing their path.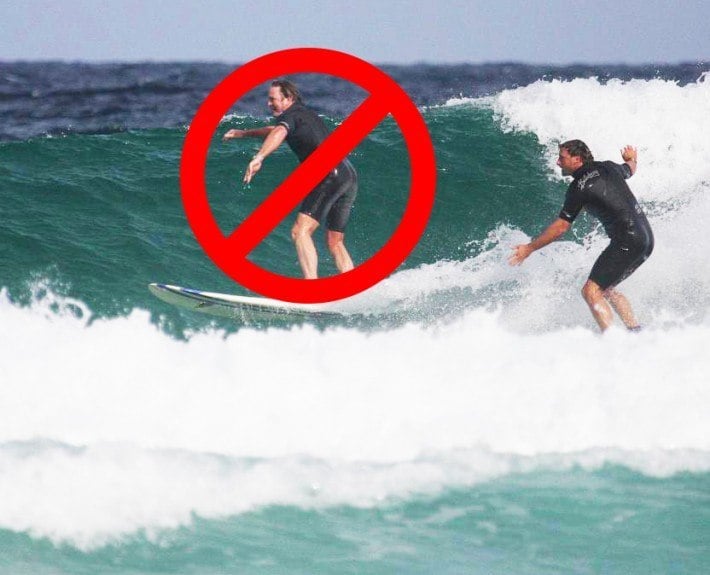 Don't
"

Drop In

"

On Another Surfer's Wave
Of all the rules of surfing etiquette this is probably the most important.
When two surfers are paddling for a wave, the surfer who is closest to the peak of the wave is the one with the right of way.
Another way of putting this is that the surfer who is closest to the breaking part of the wave—the part that is white—is the surfer who has the right of way and should be offered an unobstructed path. "Dropping in" on another surfer is when you stand up on a wave in the path of a surfer who is already riding a wave. If, on the other hand, you are sharing the peak with another surfer, one of you can decide to go left while the other person can go right.
We know it can be a little confusing, but keeping an eye on the other surfers around you is important when sharing the waves. Just like crossing the street in a vehicle, be sure you remember to look both ways before paddling into a wave.
Make Every Effort To Control Your Board
Let's face it: Sometimes surfers end up falling. It happens to even the best in the world, and when learning a new sport during a surfing lesson on Maui you'll  fall a couple of times.
Surf leashes help connect the board to either your ankle or leg, but just because you have a leash doesn't mean that you don't have to think.
Modern day surfboards can be very heavy and some have a pointy nose, so you want to make sure when you fall off a wave that your board doesn't hit another surfer. We know it can be hard to think while falling, but respectful surfer will control their board so that it doesn't hit other people.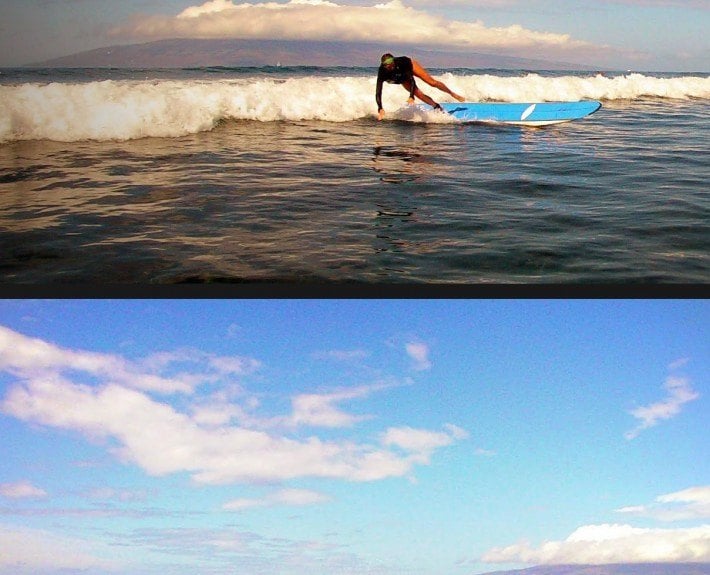 When you fall off your board, check to see if there are any surfers paddling in the area in front of you.
Even with a leash a board can reach about 12 feet from your body, so try to stop the board with your hand or by grabbing on to your leash.
More importantly, if it looks like a wave is going to crash on your head, instead of throwing your board at the wave and crossing your fingers for the best, place your arm along the nose of your board, or "turn turtle" to stay under control.
Sure, touching the reef can cut your feet, but we can assure you your feet heal much faster than the damage that is done to the coral.
As members of the Hawaii EcoTourism Assosciation, Hawaiian Paddle Sports is adamant about helping to protect our island resources. Not standing on the reef while surfing is  the sign of a conscious surfer, and it's just a small something that we all can strive for to help protect our reefs.
If you fall off of your board or are in shallow water, make every effort to tread water and avoid touching your feet to the reef.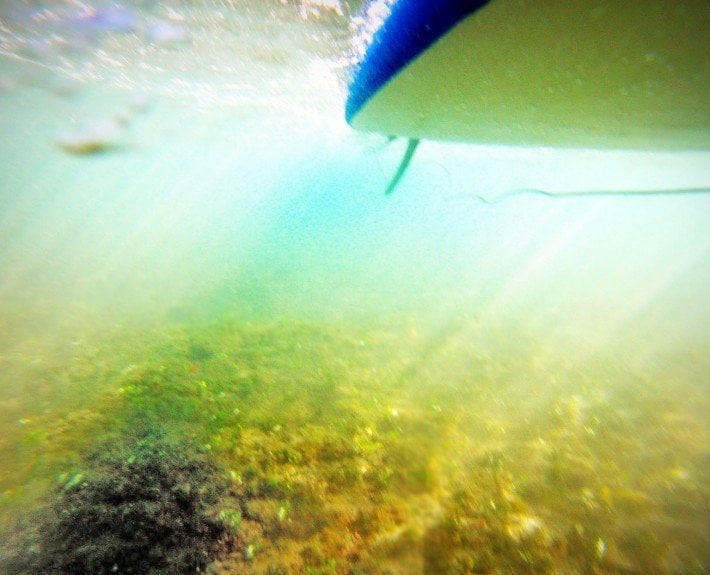 Lastly, remember that surfing is supposed to be fun as opposed to the source of angst. The ocean is proven to have healing qualities, and even 20 minutes of paddling or surfing can help reduce anxiety and stress.
That said, occasionally surfers will get a bit too serious during their time spent surfing in Maui, and exhibiting aggression towards other surfers runs counter to the positive vibes. Show aloha when surfing in Maui and aloha will be shown to you, and following the basics of surf etiquette is one of the best places you can start.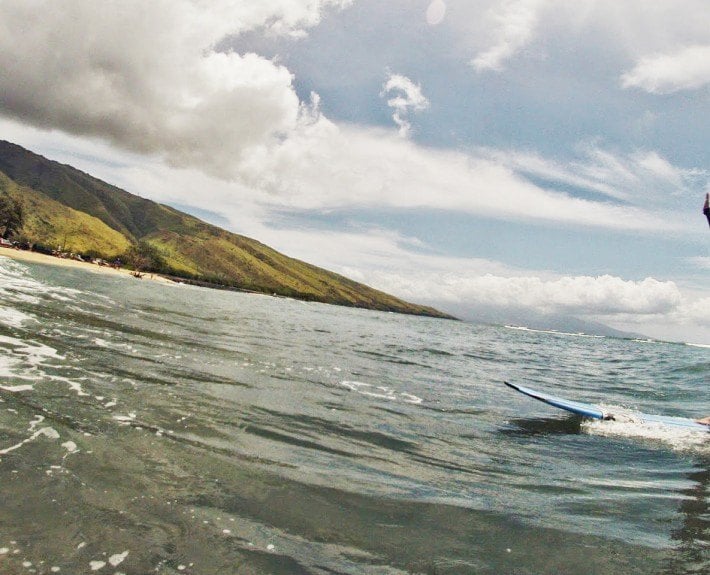 Do you have other tips for surf etiquette in Maui? Leave them for us in the comments below!
What are we forgetting?