Scuba Diving, Snorkeling, Surfing
Snorkel Tour / Lesson Times
Honolua Bay is world renowned for superb snorkeling and surfing.
Part of the 45-acre Honolua-Mokule'ia Bay Marine Life Conservation District, Honolua was recently saved from private and commercial development by Save Honolua Coalition, Hawaiian Islands Land Trust and Aha Moku Ka'anapali and is eventually slated to become an official state park of Hawaii.



Honolua Bay | Historical Significance
Honolua Bay, meaning "two bays" in Hawaiian, is an area of rich environmental, cultural and historical importance on Maui.
In 1836, an American missionary and doctor by the name of Dwight Baldwin settled on Maui. During this time, the area was separated into seven ahupua'a, or pie slices of land that offered ideal access to different elevations for growing several kinds of crops, including areas of Honolua, Honokahua, Honokowai, Honokohau, Kahana, Mahinahina, and Mailepai. After completing 17 years of diligent service, Reverend Dr. Dwight Baldwin was granted 2,675 acres on the lands of the Mahinahina and Kahana ahupua'a for farming and grazing. New land was acquired until 1902 when Honolua Ranch reached 24,500 acres.



The area was originally used for fishing, raising cattle and farming crops such as coffee beans, aloe, mango, and taro. Honolua Ranch Manager and horticulturist David T. Fleming eventually planted the first 20 acres of hala kahiki, or pineapple, transforming Honolua Ranch into Honolua Plantation. By 1920, the ranch and plantation were renamed Baldwin Packers and became the largest private label producer of pineapple juice and pineapples in the country. By 1923, Baldwin Packers owned and managed 22,000+ acres of land in West Maui, and in 1969, the company merged with Maui Pineapple Company to crea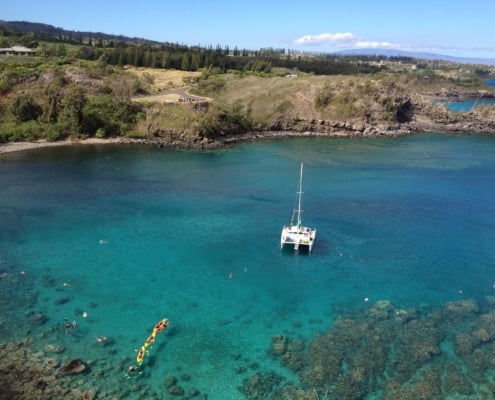 te Maui Land & Pineapple Company.
After the opening of Kapalua Resort in 1978, 45 acres of the area encompassing Honolua Bay was declared a Marine Life Conservation District. In 1988, Maui Land & Pineapple Company dedicated an additional 8,304 acres of land to conservation, including the Pu'u Kukui, meaning "hill of enlightenment," the largest privately owned nature preserve in all of Hawaii.
With the recent possession of Lipoa Point and surrounding area, including Honolua Bay, by the state of Hawaii, October 9th has been officially named Lipoa Point Day. Members of Save Honolua Coalition, along with many residents and officials, have worked hard to preserve the area as an open space with public access, so please take the time to visit this historic area and appreciate it for yourself.
Honolua Bay | Hawaiian Significance
In 1976, Hokule'a, meaning 'star of gladness', became the first voyaging canoe in over 600 years to sail the Polynesian Islands using traditional voyaging techniques.
After successfully navigating the Hawaiian Islands, an all-star crew, including master navigator Mau Pialiug, set sail from Maui's Honolua Bay for the 2,500+ mile voyage to Tahiti. 31 days later, Hokule'a arrived to a crowd of 17,000 Tahitians celebrating their first successful long-distance journey.
In 2014, Hokule'a set sail for an around the world voyage known as Malama Honua, or 'to care for our Earth.' Hawaiian Paddle Sports organized an event to bring Hokule'a back to Maui prior to its departure, and we were honored and thrilled to be a part of Hawaiian history in the making.
Honolua Bay | Rules of the Land
Honolua Bay's guests, as part of the Marine Life Conservation District, are strictly prohibited from fishing, taking or injuring any marine life in addition to taking or altering any sand, coral or other geological feature or specimen. Because of these regulations, thousands of visitors and residents continue to enjoy the wide array of marine life found in the area.
The family who owns the property between the road and the bay have also established rules for visitors in an effort to keep the ecosystem healthy and functioning. Under these rules, guests are prohibited from bringing dogs, touching coral and wearing sunscreen, as it can cause damage to the surrounding reef.
Highlights of Honolua Bay
Due to Honolua Bay's location between steep rocky cliffs, it often remains protected from strong winds that make snorkeling difficult in other areas. If snorkeling from land, make sure to swim out past the entrance to enjoy much better visibility. By arriving from the water, you'll enjoy clear views of Pailolo Channel and the eastern shoreline of Moloka'i. We are also lucky enough to spot Hawaiian Spinner Dolphins (Nai'a) on occasion, so keep your eyes peeled!
The beautiful coral formations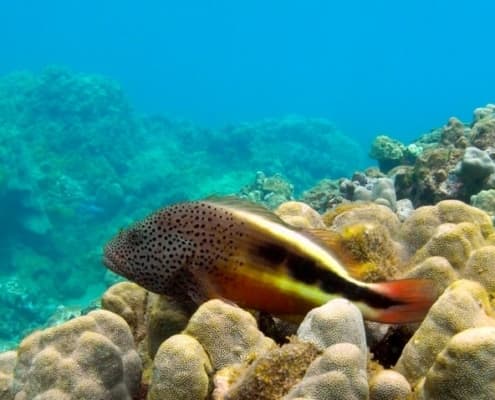 and abundance of tropical fish, some of which can only be found in Hawaii, are just some of the reasons this spot is popular among residents and visitors alike. During winter months, Honolua Bay is one of the most popular surfing spots on the island, with clear barrels and long rides that are ideal for experienced surfers.
When driving to Honolua Bay, look for Mile Marker #32 off the Honoapi'ilani Hwy and take the short hike through the jungle landscape. Continue driving around the north side of the island to reach Nakalele Point, site of the Nakalele Blowhole, as well as Olivine Pools, where you can swim in salt water pools beside the ocean. Continue driving to reach the beautiful local town of Kahakuloa, where visitors are encouraged to stop for delicious snacks such as Lorraine's homemade banana bread, shave ice and cream pie, and browse local art with a view at Kaukini Gallery.
Honolua Bay is a can't miss for ocean and marine life enthusiasts, and we highly recommend it for excellent snorkeling and unique views of Maui.