Grab some friends and join us Thanksgiving Morning at 7 a.m.  The event is FREE and open to the public but registration is encouraged.  Donate $35 or more to Maui Food Bank to get an event t-shirt and a chance to win raffle prizes. Come by Kihei Canoe Club between 7 a.m. – 10 a.m. on Thanksgiving day to drop off your food donations and pick up your t-shirt. (No t-shirt pick up is available outside this time, and delivery or shipping is not available.)
Post any pictures to Instagram or Facebook tagging @MauiFoodBank @HawaiianPaddleSports and use the hashtag #Paddle4Hunger to get re-shared, or post them directly to the Paddle for Hunger 2023 Facebook event page.
We look forward to seeing your Paddle For Hunger posts!
Paddle For Hunger Donation Details
Use the Donate link on this page to donate now to Maui Food Bank.
Donate $35 or more and receive a free Paddle For Hunger t-shirt (while supplies last).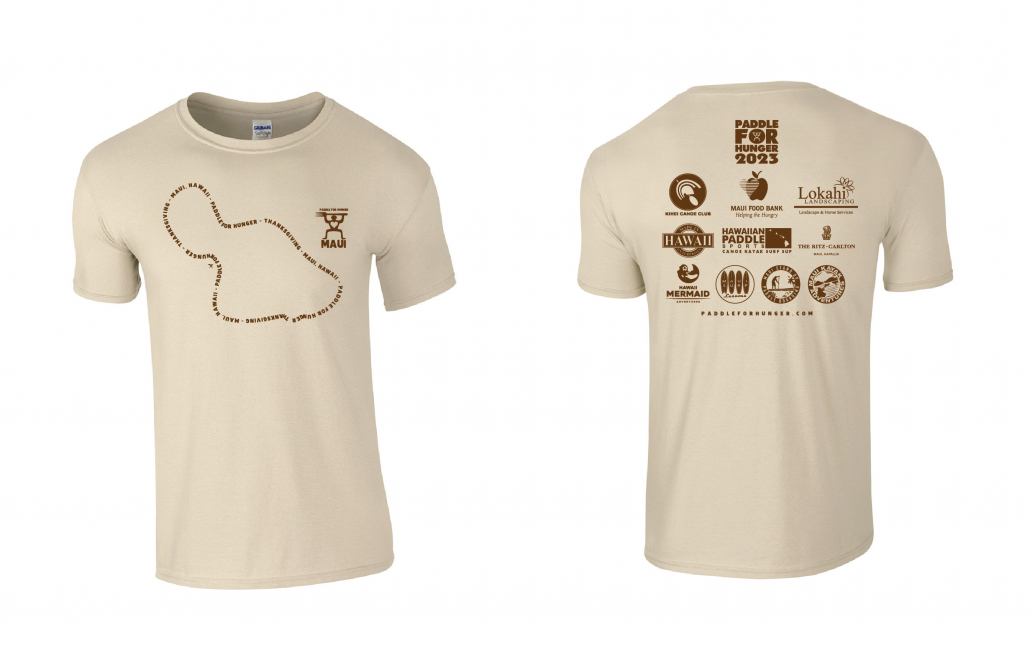 Maui Food Bank is in need of: canned goods (including tuna, meats, fruits, vegetables, meals, and soups with protein), cereal, rice, and pasta. Items can be dropped in any Maui Food Bank collection bin around town or you can donate online.
The course runs from Kīhei Canoe Club to Kealia Pond River Mouth/Pavilion and back to Kīhei Canoe Club Pier. For the short course, turn early… anywhere, no shame.
Get outside with your outrigger canoes (OC 1-6), V1, surfskis, stand up paddle boards, prone paddle boards, surfboards… or anything else that floats.
Please remember the safety precautions listed below:
Monitor ocean conditions and when in doubt, don't go out.
Make sure that a friend or family member knows when and where you are paddling and what time you should return.
Wear a LEASH.
Wear bright colored shirt and hat.
Wear a PFD (Personal Floatation Device). There are some really good inflatable ones on the market now.
Check your gear before going out.
Maintain equipment: fix dings, change steering cables, etc.
Take a phone or watch with calling ability along on paddles.
Mahalo to our 2022 sponsors.
The Paddle For Hunger (Turkey Trot) Story
What we know today as "Paddle for Hunger" was originally an OC1 time trial for Malama Ula Canoe Club (Wailea Canoe Club) in 2000. Over the years, paddlers from other clubs joined in, including OC2's and OC6's. In 2002, Al Duarte suggested paddlers bring canned food that could be donated to Maui Food Bank and the Turkey Trot was formed. The event grew exponentially and in 2007, it officially became a fundraiser for Maui Food Bank. Since 2009 the event has brought in more than $10,300 in cash donations. In the years 2012-2014, it brought in 3,062 pounds of food.
Over the years, volunteers from Maui Paddling Hui (formerly known as Maui Canoe and Kayak Club) organized the race ensuring it would happen every year. Past organizers include: Peter Konohia, Don and Keri Meihling, Rob Phillips, Sharron and Ricky Balidoy, Tim Lara, and Tyson Kubo. Most years it was a "non-event" group of friends paddling together since there was no permit or insurance.
Since 2012, Hawaiian Paddle Sports has supported Paddle for Hunger as part of its monthly Malama Maui give back program, supporting Maui Food Bank as our chosen December nonprofit. In 2015, Hawaiian Paddle Sports stepped up to organize the event, securing water safety, permits, insurance, silent auction items, and door prizes. In the past five years (2016-2020), with the help of Maui's generous community and paddling ohana, Hawaiian Paddle Sports raised more than $36,320 for Maui Food Bank, enough to provide 158,488 meals for needy families in Maui County.
To learn more about Hawaiian Paddle Sports' mission, values, and community give back program, visit our About Us page.