Our mission at Hawaiian Paddle Sports involves more than just our business. Community, culture, and protecting what we love in this world is a big part of who we are. Each month, our Malama Maui program highlights a local charity, community group or non profit organization to help raise awareness for their cause.  In January 2018, we were proud to support Hawaiian Islands Land Trust. Check out the highlights from last year in our video.
The mission of Hawaiian Islands Land Trust is simple: To protect the lands that sustain us for current and future generations.
Though often taken for granted, land – be it open space, coastal access, beaches, or conservation areas – is critical to sustaining our Maui community. As our population grows, industries expand, and developments increase, it is important to preserve native habitats and open space. Throughout Hawaii, the Hawaiian Islands Land Trust is responsible for managing thousands of acres. Their work is important to sustaining our islands and protecting these areas for the future.
Hawaiian Islands Land Trust: Restoring Maui's Coastlines
In support of January's non profit of the month, team members from Hawaiian Paddle Sports, Maui Kayak Adventures, Maui Stand Up Paddle Boarding, Maui Surf Lessons and Hawaii Mermaid Adventures spent the afternoon restoring Maui's native coastal ecosystems with Hawaiian Islands Land Trust. The group's efforts focused on Waihe'e Coastal Dunes and Wetlands Refuge, a 277 acre land preserve located on Maui's north shore. Waihe'e represents one of the largest parcels owned by Hawaiian Islands Land Trust. It was once home to a thriving native Hawaiian community, complete with lo'i (taro patches), fishponds, and heiau (temple). Just offshore the reserve lies excellent fishing and one of Maui's most extensive reef systems.
Before Hawaiian Islands Land Trust gained ownership of the land in 2004, Waihe'e was slated for a destination golf resort. Years of neglect by previous owners had also resulted in much of the area being overrun by invasive plants and animals. Native species were scarce and many of the archaeological sites were in various states of disrepair.
The group met up with HILT's Associate Executive Director of Conservation, Scott Fisher, who led us on a hike sharing his extensive insights into the native species and history along the way.
`Akia (Wikstroemia uva-ursi)
This native bush was used to stun fish. When added to water, all oxygen is dispersed, leaving the fish immobile and easy to grab.
Nanea (Vigna marina)
Nitrogen fixer.
Naupaka (Scaevola taccada)
Berries that can help reduce eye infections.
Thursday's Malama Maui service project included removing tree clippings from the hau tree. Hawaiians used the fibers from the tree to make cordage and the wood was used for outrigger canoe spars (?iako or ama and paepae or boom on a sailing canoe). Though a native species, the tree's thick and twisted branches are encroaching upon a once thriving fish pond area. HILT hopes to enliven this fish pond in the future and is limiting the breadth of the hau trees' growth. The wetlands have attracted several native waterbirds. Keeping the hau trees at a distance from the wetlands also keeps the predators such as cats and mongoose who live in the trees from native waterbirds.
Hawaiians did not only use the fishponds for fish, they also grew taro in the wetlands. A taro patch (lo`i kalo) the size of the once 7-acre fish pond at the Waihe'e Coastal Dunes and Wetlands Refuge that was planted with enough room for the fish could easily have produced 35-70 metric tons of taro every year. This would have been a significant contribution to the sustainability of the community.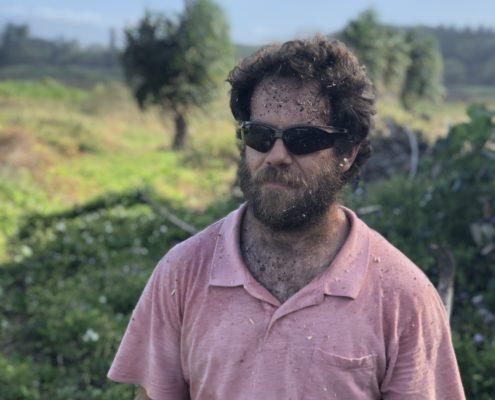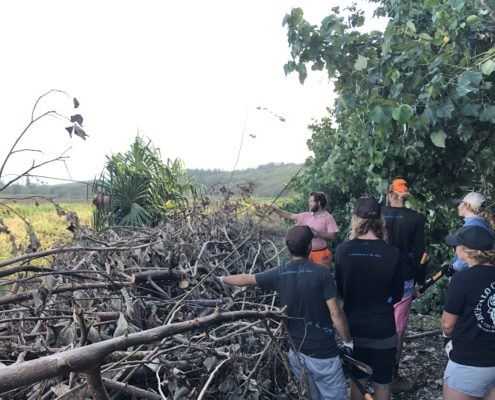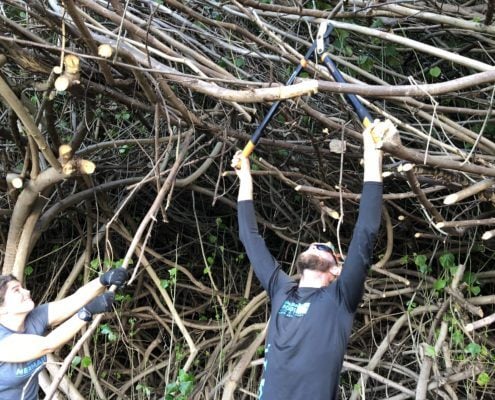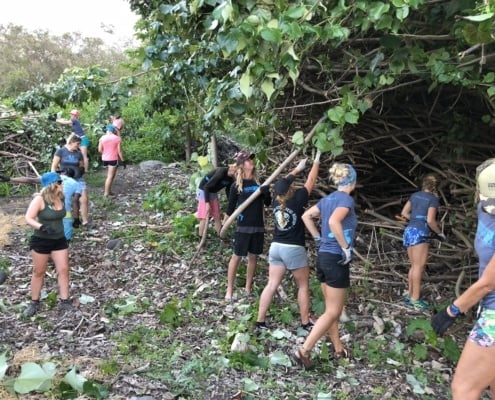 Active restoration programs at the preserve, including the invasive plant removal completed by Hawaiian Paddle Sports, have enhanced critical native wildlife habitat and preserved important cultural resources. These efforts pay off, and today Waihe'e supports a number of native and endangered species. In recent years, Hawaiian Islands Land Trust staff have documented the residence of eight different endangered species including native Hawaiian birds such as the ae'o (stilt), alae ke'oke'o (coot), koloa (duck), and nene (goose). Through volunteering, Hawaiian Paddle Sports team members were able to connect directly with the land and see the immediate results of their work.
The background on the left shows border HILT land, where non-native species of plants have not been removed. The right shows the land and fish pond post-restoration of the native Hawaiian plant species. This effort has allowed many native Hawaiian bird species, including ae'o (stilt) and 'alae ke'oke'o (coot) to return to the area.
Buy Back the Beach Fundraiser
On the Saturday following our service project at the Waihe'e Coastal Dunes and Wetlands Refuge, Hawaiian Paddle Sports employees wet to the Buy Back the Beach fundraiser event at the Old Lahaina Luau. The event raised over $150,000 for the Hawaiian Island Land Trust to continue its valuable work. Many thanks are due to all the sponsors and volunteers who participated in this highly successful event. Do you recognize us all dressed up?
Hawaiian Islands Land Trust
Mission
Land is an important and valuable resource in Hawai'i, but can quickly be overtaken by human development. Founded in 2011, Hawaiian Islands Land Trust is a non profit organization dedicated to preserving Hawai'i's most culturally, environmentally, and socially valuable lands. Non-political by design, Hawaiian Islands Land Trust works with private landowners, community groups, community leaders and government partners to protect Hawaii's precious lands. In some cases, such as at Waihe'e Refuge, Hawaiian Islands Land Trust owns the land and has implemented long-term restoration projects. Hawaiian Islands Land Trust also offers resources and support to landowners in integrating conservation into their land use plans in perpetuity.
The Land Trust currently protects over 17,000 acres of land across the Hawaiian Islands through a variety of conservation easements and land ownership. Protection of these lands preserves beautiful views, promotes clean water and air, and ensures that the community has access to areas such as beaches and coastlines.
There are a number of ways to support Hawaiian Islands Land Trust – whether you're a family volunteering your time on vacation or a corporate sponsor interested in making a donation.
If you're on Maui, consider joining Hawaiian Islands Land Trust's weekly workday, hosted every Friday at Waihe'e Coastal Dunes and Wetland Refuge from 8am – 12pm. All work tools are provided, but make sure to bring sturdy shoes and sun protection.
You can also become a member or donate to Hawaiian Islands Land Trust. Memberships and donations are critical to helping Hawaiian Islands Land Trust continue its essential work throughout the islands.
Free, guided explorations of Waihe'e Refuge are also offered throughout the year, and the two-mile coastal trail is open for self-guided walks. Learn more through Hawaiian Islands Land Trust's Events Page, and don't forget to sign up for the Newsletter!
For more information on how you can get involved, contact Scott Fisher, Interim Executive and Director of Conservation, via email [email protected] or call (808) 244-LAND (5263)
What are we forgetting?