Our mission at Hawaiian Paddle Sports involves more than just our business. Community, culture, and protecting what we love in this world is a big part of who we are. Each month we highlight a local charity, community group or non profit organization to help raise awareness for their cause.  We are proud to sponsor Surfrider Foundation, Maui Chapter.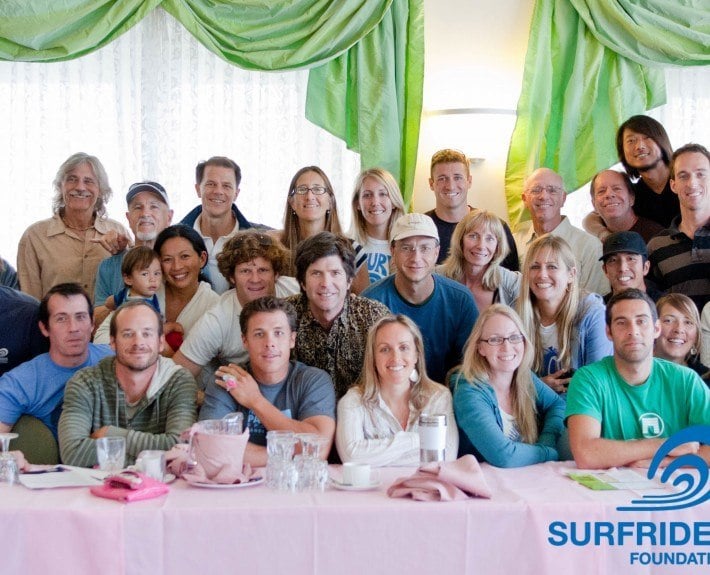 Protecting Maui's Ocean, Waves, and Beaches
Founded in the 1980's in response to unchecked coastal development, Surfrider Foundation is now an internationally renowned non-profit dedicated to protecting the world's ocean, waves, and beaches. Surfrider Foundation is headquartered in San Clemente, California and boasts volunteer-run chapters in every coastal and Great Lake state in the U.S. The organization currently maintains over 37,000 members and 60 chapters.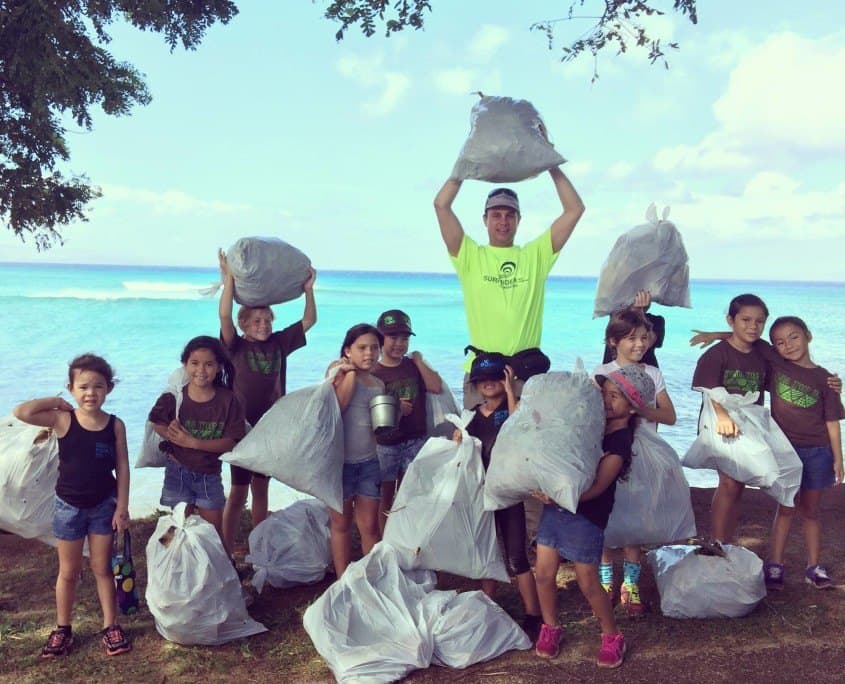 Surfrider Maui Chapter has been an active champion for our island's coastal and marine resources for nearly two decades. Through beach clean ups, public outreach,  civic engagement, and activism, the Chapter has continually helped protect some of Maui's most iconic coastlines and waves. The Chapter's main programs include raising awareness about marine debris, hosting community beach cleanups, and protecting Maui's coastal areas from development and pollution. Hawaiian Paddle Sports is passionate about protecting the ocean and working with Surfrider is a big part of how we can do that.
Joining Together to Support Clean Beaches
Recently, the team at Hawaiian Paddle Sports spent the morning cleaning Honokahua Beach beach with Surfrider Maui members. Honokahua Beach (known as DT Fleming Beach), is one of our favorite beaches and is particularly special to Hawaiian Paddle Sports because it is used as a launching point for many of our kayak excursions and outrigger canoe tours in the summer.
Over 50 people joined in for the beach clean up and worked together to collect over 700lbs of rubbish from this well-exposed beach.  Volunteers also collected some large item debris including heavy metal pieces, a discarded bike, several abandoned tires, a metal wheel, and even plasma TV.
Before leaving the beach, volunteers and fellow beach goers took a moment to take part in Hands Across the Sand, a world-wide movement to promote a clean energy future for our Earth. From Florida to France, thousands of American and global citizens joined hands to raise awareness about the need to end our dependence on dirty fuel sources.  Communities literally drew human lines in the sand to protest our continued use of Fossil Fuels and the threats they pose to our planet.

As part of the day's events, Hawaiian Paddle Sports team joined Surfrider in a traditional Hawaiian blessing of the Ocean Friendly Rain Garden at Pohaku Beach Park. Installed in 2014, the garden is designed to capture and filter polluted runoff from the adjacent parking lot. Many don't realize that runoff from streets and roadways (including parking lots!) carries toxic pollutants directly into the ocean. Runoff can contain petroleum fuel (from streets and parking lots), fecal bacteria, and chemical toxins. Rain gardens are important in stopping these pollutants from reaching the ocean.  It was rewarding to see the beautiful outcome of the hard work that went into building these rain gardens.
Rain gardens put stormwater to good use as a  source of irrigation for native plants in the garden, which in turn act as a natural aquifer before the water runs into our oceans.  For more information on the importance of Ocean Friendly Gardens, http://www.surfrider.org/programs/entry/ocean-friendly-gardens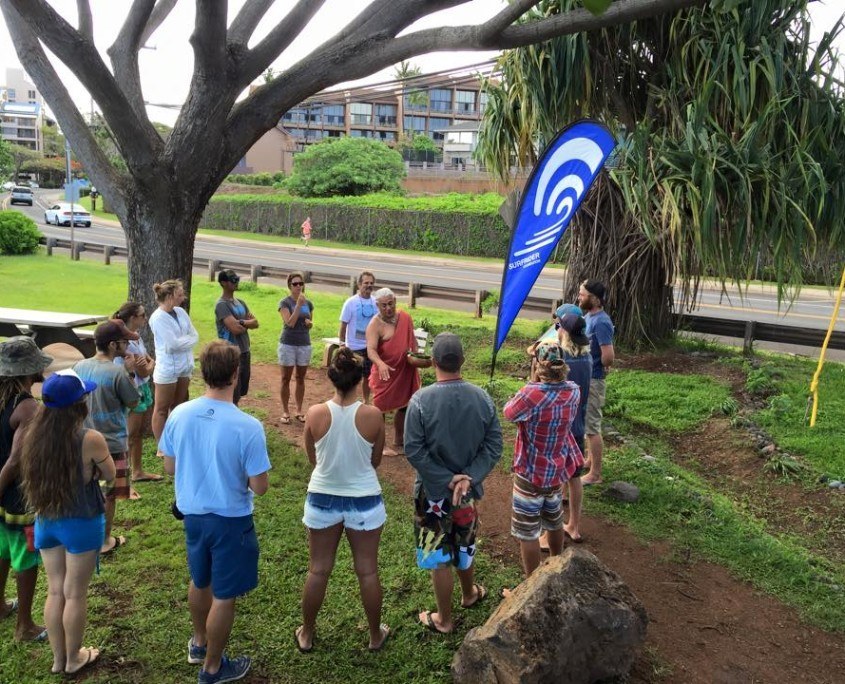 Reducing Plastic Pollution
&

Protecting Coastal Lands
One of Surfrider Maui's main programs is the Rise Above Plastics advocacy and awareness campaign. The goal of the campaign is to reduce the use of single-use plastics within our community, and is achieved through public outreach, policy, and community-based programs. In 2010, Surfrider Maui was instrumental in the passage of Maui County's plastic bag ban, and in 2014, helped pass a law that prohibits smoking and tobacco use on Maui County beaches. Surfrider Maui is currently partnering with nonprofits and restaurants across the state to launch the Ocean Friendly Restaurants Hawaii program. This voluntary program is designed to reduce single-use plastics within the restaurant and food industries.
Surfrider Maui also champions the protection and preservation of Maui's coastal areas. The Chapter continually advocates for public beach access and has partnered with organizations throughout the years to protect waves such as Fright Trains (in Ma'alaea) and Honolua Bay.  Surfrider Maui is currently working to protect hundreds of acres near the big wave surf spot famously known as "Jaws". As part of the Protect Pe'ahi coalition, Surfrider Maui is urging the local County Council to set aside funds to purchase the land.
Surfrider Maui is run 100% by local volunteers. They are always looking for new members to join their team in helping protecting Maui's ocean and coastlines. Here are some ways you can help support Surfrider Maui:
Join Surfrider Maui's monthly beach cleanups. Held the 3rd Saturday of each month from 9am-12pm, these monthly beach cleanups help remove marine debris and litter from along Maui's shorelines. Cleanups target a different beach each month. Find a cleanup near you and see you at the beach!
Volunteer your talents. Surfrider Maui runs on volunteers. From tabling at outreach events to graphic design and website maintenance, Surfrider Maui wants you! Email

[email protected]

to learn how you can get involved.
Become a Member. Becoming a Surfrider member is one of the easiest ways to support Surfrider Maui's ocean-based advocacy programs. With just one click, you can be a part of the Surfrider Maui ohana (family).
Sign up for the Surfrider Maui Newsletter. Email

[email protected]

to stay up-to-date with Surfrider Maui's Action Alerts, upcoming events, and important announcements.
Visit the Surfrider Maui website for more information on you can help support the organization. Don't forget to FOLLOW Surfrider Maui on Facebook and Twitter!
What are we forgetting?