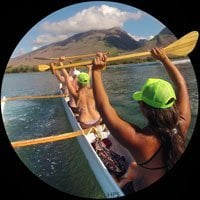 While an outrigger canoe may not mean much to most people, here in the beautiful Aloha State, outrigger canoeing is not only the official state team sport but a rich historical reminder that to live in Hawaii is to know and respect the ocean. No other culture in history has such a strong and intertwined existence with the ocean.
Outrigger canoes first arrived in Hawaii around 200 AD, some large enough to hold up to 80 people, and were filled with essential items like edible plants, water and animals to ensure a somewhat safer voyage for the brave explorers who took off in search of land. By following the migration patterns of birds seen flying overhead, explorers soon discovered the Hawaiian Islands.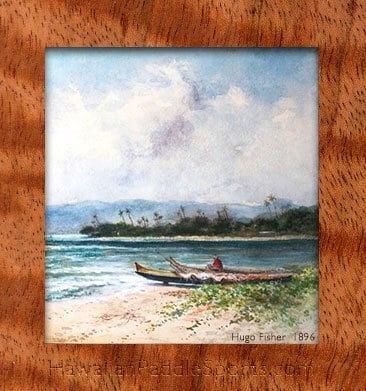 The harsh terrain of the land, including jagged volcanic lava rock, steep cliffs, howling wind and waves, made it very difficult to transport anything, so outrigger canoes became a necessity for tasks like fishing and transporting goods and people. When native Hawaiians found giant Koa trees on the Big Island, they soon discovered they could build an entire canoe hull from a single piece of wood. While the outrigger canoe has gone through many phases over the last 2,000 years, Hawaiian outrigger canoes specifically remain built for battling conditions in the open ocean and are recognized for their unique shape, design and lack of extra ornamentation or decoration.
Since setting out on the ocean was still a very dangerous and risky task, building a new canoe involved the work and dedication of many people as well as frequent cultural and traditional practices. First, a kahuna, or Hawaiian priest, had to search for the perfect site and tree by following the 'elepaio, or Hawaiian forest bird, into the forest. Since the 'elepaio was attracted to rotting Koa wood, if the bird began pecking at the tree, that meant the wood was not solid and the tree would be useless for the strong structure it took to build a canoe. Once finding the perfect tree, the kahuna would then gather the canoe builders and workers, staying throughout the building process to offer prayers and blessings.
Once the tree was transported back to shore, which often required the effort of hundreds of men over several days, the hull was finished in a special halau, or canoe shed. One of the most highly honored members of the ancient Hawaiian society was the canoe carver, or kalai wa'a. Black paint, made from a mixture of plants and charcoal, was then added to the outer layer of the canoe to help keep it waterproof. For the Ali'i, or royalty, hens' eggs were used to make the paint shiny and glossy. The final act of building the canoe was the sacrifice of a dog and pig, which symbolized the tearing apart of the billows of the ocean and the rooting of the canoe into the open sea, respectively. Noho, or canoe seats, were often named after the paddler instead of the position number, and specialized wood artisans were given the task of making the paddles, all of which were customized for each owner and displayed proudly inside the paddler's home.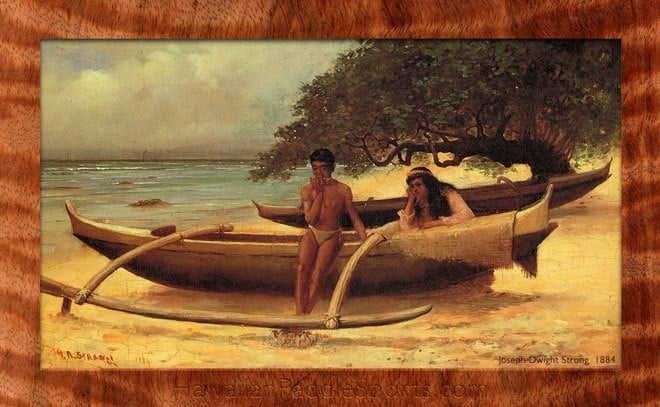 It has been said that "canoe racing has been around as long as there have been 2 canoes." While outrigger canoes were not invented in Hawaii, the sport of canoe racing certainly was, called hei hei wa'a, and was practiced widely among Hawaiian chiefs for sport and recreation, often placing bets on the outcome. When Captain Cook arrived to the Hawaiian islands in 1779, he reported seeing at least 1,500 outrigger canoes, quite a feat due to the amount of work and manpower required to build each one. For that time, estimates of a Hawaiian population were between 175,000 to 225,000 people and between 6,000 and 12,000 outrigger canoes. As the shift from traditional Hawaiian practices to European ways of life began to take shape, canoeing, and placing bets on the outcome of canoe races, became frowned upon by missionaries and was later banned by Queen Ka'ahumanu under their influence.
Several decades later, in 1875, the last reigning King of the Kingdom of Hawaii, King David Kalakaua, brought back the sport of outrigger canoe racing by naming his own birthday, November 16th, official annual regatta day. In 1908, the Outrigger Canoe Club was founded on Oahu, which helped popularize the nearly lost Hawaiian sports of surfing and outrigger canoe racing.
Then, in 1975, historian and Polynesian Voyaging Society member Herb Kawainui Kane designed a replica of a traditional Hawaiian double-hulled voyaging canoe, which he named Hokule'a, or "Star of Gladness." In 1976, Hokule'a departed from Honolua Bay, Maui, and arrived successfully in Tahiti 34 days later, without the aid of any modern navigation instruments. After completing six major voyages over the next couple decades, the Hokule'a has become a iconic, spiritual symbol for the Hawaiian people and culture.
Although Hokule'a mastered open ocean voyages time and time again, a second canoe was in the works, called Hawai'iloa, which would be built from more traditional materials, difficult to find due to deforestation and a lack of large Koa trees. In 1990, a group of native Alaskan tribes donated two Sitka spruce logs for the canoe, stating  "Both the reality and the symbolism of the Hawai'iloa project breathe hope and inspiration into all peoples seeking to maintain their traditions, heritage and culture in a society that does not place a high priority on such things… You do it for the Hawaiian people, but it reaches far beyond. In your canoe you carry all of us who share your vision and aspiration for a people to live and prosper with their future firmly built on the knowledge of their heritage and tradition."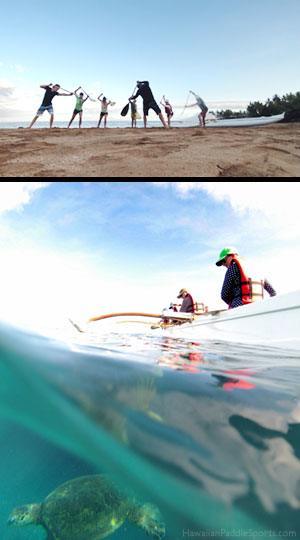 Today, outrigger canoeing and canoe racing have once again been revived along with Hawaiian practices of ocean navigation and construction. There are now more than 60 canoe clubs in Hawaii, and Hawaiian outrigger canoes are the standard canoe used internationally in outrigger canoe racing. The shape, length and weight requirements for racing are all very strict based on Hawaiian culture and tradition, commonly using original Hawaiian customs, names, techniques and traditions for all parts of the sport.
While we certainly don't expect you to master the art of outrigger canoe racing on your next vacation to Maui, we do encourage you to try your hand at paddling while enjoying the views and learning something new during one of our outrigger canoe tours, which visit some of the best scenic areas on the island, including South Maui's Turtle Town, West Maui's Coral Gardens, Honolua Bay and even Molokini Crater. We now offer Outrigger Canoe rides on Oahu too. There are six seats in our 45 foot outrigger canoe, and while we do combine parties in order to fill up all available seats, we ensure an exclusive, private and unique experience for you and your friends or family.
To learn more about outrigger canoe racing and get involved on Maui, visit Hui o Wa'a Kaulua, or "Assembly of the Double-Hull Canoe", a local non-profit organization that offers educational programs for students and is working to launch a 62 ft. transoceanic voyaging canoe called Mo'okiha o Pi'ilani, or "Sacred Lizard of Maui", later this month.
HAWAIIAN OUTRIGGER CANOE PARTS
Hawaiian Outrigger Canoe Commands
Steersman to crew: Makaukau (mah-cow-cow)  Are you ready?
Crew to steersman: `ae (eye) Yes   or  `a`ole (ah-oh-lay) No
Steersman to crew: Hoe Hapai  (ho-ay ha-pie)  Lift your paddle
Steersman to crew: Imua (ee-moo-ah) Proceed forward
Steersman to crew: Lawa (Lah-va)  Enough; to stop paddling
Other Hawaiian Outrigger Canoe Terms
Wa`a (vah-ah) Hawaiian Outrigger Canoe
Wa`a Kaulua (vah-ah cow-lew-ah) Double Haul Canoe
Huli (who-lee) To flip over canoe
Huki (who-key) To pull
Hoe (ho-aya) Paddle
Have you been on a Hawaiian Outrigger Canoe?
Tell us about it in the comments!
What are we forgetting?