Scuba Diving, Snorkeling, Sailing
Dependent on where tour operator is located
Snorkel Tour / Lesson Times
Molokini Crater is one of the most popular snorkeling locations in all of Hawaii, thanks to its excellent visibility, fascinating history, vast marine life and close proximity to Maui's harbors. While nearly half a million visitors snorkel and scuba dive Molokini Crater each year, very few choose to join us for a challenging paddle to the historic crater.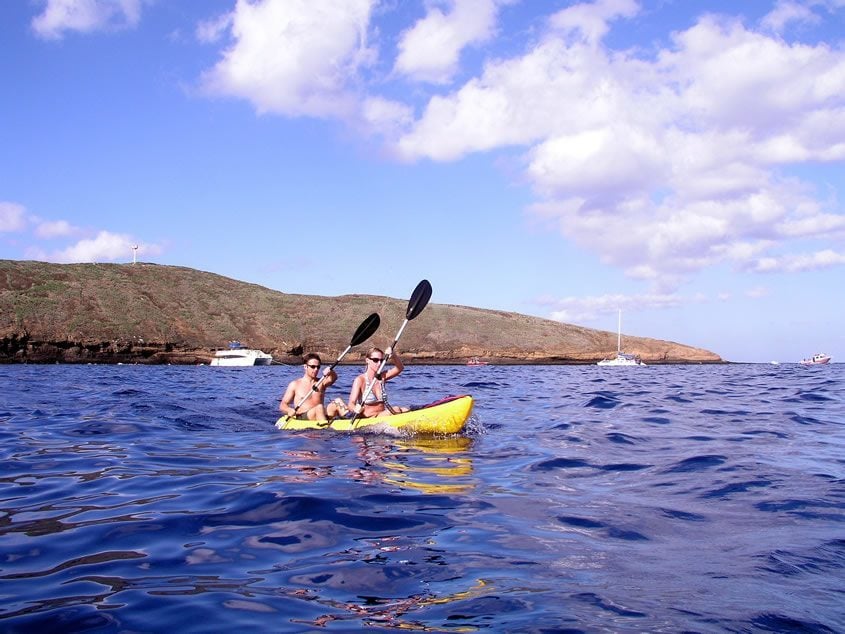 History of Molokini Crater
Molokini Crater was formed approximately 230,000 years ago by a volcanic eruption, located in the Alalakeiki Channel between Maui and the neighbor island of Kaho'olawe.
A volcanic atoll located 2.5 miles off of Maui's southern shore, Molokini Crater was once used by Hawaiians for hunting, gathering, and fishing. Ancient fishing lures and stone sinkers have previously been found by divers, and it's believed that people once climbed atop the crater to collect birds, feathers, and eggs for food and tools. Since Hawaii had no large endemic land animals, the ocean was the main source of food, transportation, and recreation for ancient Polynesian explorers who settled the Hawaiian Islands.
In response to the Japanese attack on Pearl Harbor in 1941, the U.S. Military commissioned both Kaho'olawe and Molokini Crater for bomb practice because of their slender shape and size, similar to that of an enemy battleship or submarine. Evidence of this practice can still be seen today, including multiple shell casings, unexploded ordnances, and craters from impact damage.
During this time, the area was also pilfered for rare black coral by scuba divers and after urging from outraged citizens, 77 acres of underwater terrain, including Molokini Crater, were officially declared a Marine Life Conservation District. Under this classification, 260 fish species and 38 coral species are protected in the area, and the taking of sand or coral, as well as fishing, feeding or harming of any marine life, is strictly prohibited.
Molokini Crater Marine & Land Species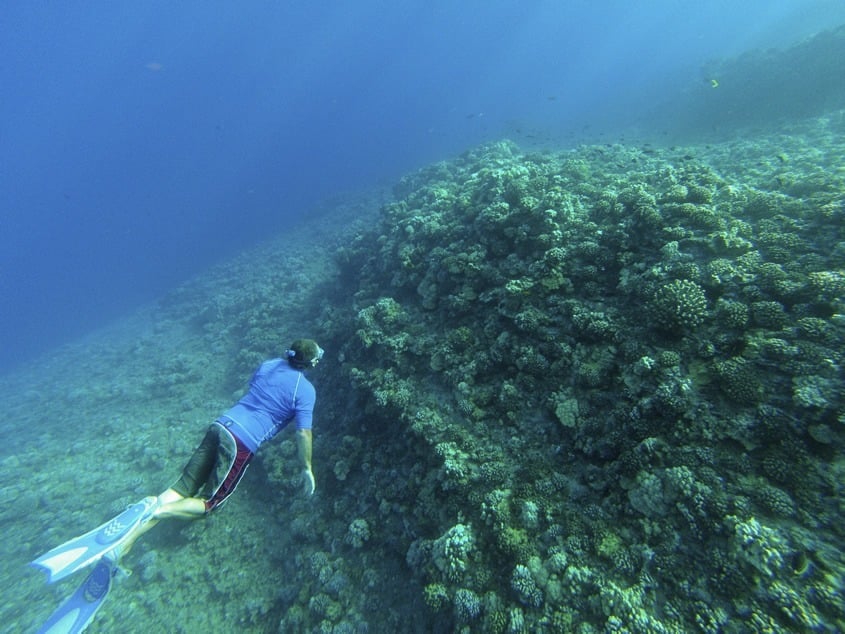 Molokini Crater is known for its exceptional visibility, often exceeding 180 feet and 200+ feet on the lesser visited back wall. Crystal clear waters and protection from wind and waves inside the crater make for excellent snorkeling and scuba diving, not to mention the vast underwater life you're likely to see.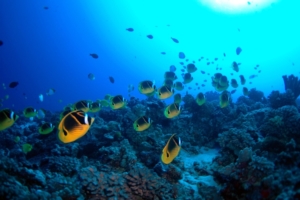 Popular marine species at Molokini include Bluefin Trevally ('Omilu), Tang, Moorish Idol (Kihikihi), Black Triggerfish (Humuhumu'ele'ele), Parrotfish (Uhu), Butterflyfish, Reef Triggerfish (Humuhumunukunukuapua'a), Peacock Grouper (Roi), Trumpetfish (Nunu), White Spotted Pufferfish ('O'opu-hue), Moray Eels (Puhi Paka) and Octopus (He'e Mauli). Larger visitors such as Manta Rays (Hahalua), Spotted Eagle Rays (Hihimanu), Reef Sharks and Hawaiian Spinner Dolphins (Nai'a) are also sometimes seen on the inside and back wall of the crater. Fishing, feeding or harming of any of the marine life in the area is forbidden.
During Maui's whale season, which lasts from December 15 to April 15, you may also see humpback whales on your ride to and from Molokini Crater. Keep an eye out for the mist rising from their blowholes!
On the crater itself, two primary species of nesting birds exist as part of the Hawaii State Seabird Sanctuary, including the Wedge-Tailed Shearwater and Bulwers Petrels. Under the Sanctuary classification, people are no longer allowed on the crater itself unless invited as part of a specific research study.
How to Get to Molokini Crater
Molokini is reached by 99% of visitors by boat. Unless you're an experienced paddler or have done similar crossover training, we recommend taking one of the many excellent boat tours offered from South Kihei Boat Ramp, Maalaea Harbor or Lahaina Harbor. Tours typically include snorkeling, scuba diving, or SNUBA at Molokini Crater and breakfast or lunch.

For those looking to try something new and get their heart pumping, we recommend joining us for our Molokini Paddle Challenge in an outrigger canoe or kayak. While it's definitely not the easiest way to reach the crater, we guarantee it's an experience you'll never forget.
Fun Facts About Molokini Crater
Molokini Crater, based on data collected from potassium-argon dating, may actually be older than Maui's Haleakala Volcano.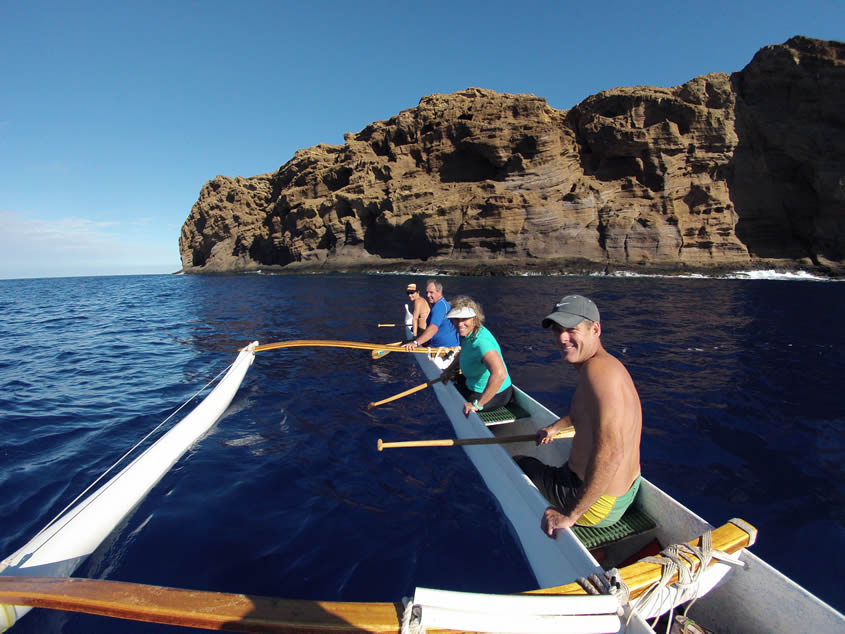 "The Elevator" is a spot along Molokini Crater's back wall that offers guests the opportunity to ride approaching waves directly up and down without ever hitting the crater itself.
The back wall has also been named one of the Top 10 Diving Destinations in the World.
Approximately 400,000 people will visit Molokini Island in one year.
Approximately 50 species of plants grow on the crater itself, at least half of which are found nowhere else on Earth.
In order to prevent tour boats from damaging the area's fragile reef system any further, day-use moorings were established in 1988.
When snorkeling or scuba diving at Molokini, you'll notice that the marine species are much less afraid of humans than at most other snorkeling spots. A large number of visitors over the last couple of decades have made the fish much less sensitive to human proximity.
In ancient Hawaiian legend, Molokini Crater is said to be the tail of a beautiful lizard, whose body was cut in half during a jealous rage by Pele, Goddess of Fire and Volcanoes.